(Current Collection)
Kiang Malingue online showroom: Window Displays
For the new iteration of its online showroom, Kiang Malingue presents Window Displays, introducing five works by Phillip Lai, Nabuqi, Su-Mei Tse, Wang Zhibo, Zheng Bo.
A window display speaks of allure and glamour, squeezing carefully sculpted garments, hats and shoes into a false two-dimensionality, and, just as importantly, into a rather shallow space that prohibits touching. The current exhibition is directly inspired by Wang Zhibo's Winter tale (Storyteller) (2022), which is a painting that flattens a theatrical scenario. Just as a window display, it arranges on shelves worn masks from different cultures, seemingly weightless spheres, a goofy snowman, revealing a strange entrance into a back room.
Wang also created in 2022 Unmanned 1, an unprecedentedly abstract painting that marks a new turning point in her practice, closely examining tangible, everyday materials before revealing an inexplicable spiritual dimension in the patently abstract composition. The Winter tale (Storyteller), however, aims to secure the worldliness of the depicted objects, duly textualising the ritual masks. Only the two perfectly rounded spheres with strange concentric patterns — too perfect to be true, although they are covered with convincing shadows and even a penetrating, arrow-like stick — hint at the surreal nature of this deliberately staged scene. Breaking character: what is onstage is not (describing the painting, Wang Zhibo: "the storyteller is also placed onstage."). Imperative to such an arrangement and to window display in general is that no object is to be left behind another, guaranteeing every single piece can be fully and plainly in view. How about the beautifully textured curtains then? To what extent is a backdrop insignificant, a prop instead of a performer?
As neatly organised and performative as Wang Zhibo's narrow stage of children's theatre, is Nabuqi's Board game: accidental cases (2022), and Su-Mei Tse's A Whole Universe (Lumi's World) (2019), two installations that specifically address children and their imaginary worlds. Nabuqi's Board game: accidental cases was made for the exhibition Everything goes back to square one at Centre Pompidou x West Bund Museum Project in 2022. It is effectively a board game, a playable installation that turns a long table into a window, so to speak, through which one may play with landscape images, miniature monuments and various figurines. Along with a series of large-scale installations that encourage children to freely play and make discoveries in the exhibition, Board game: accidental cases speaks of the process of discovering one's self in relation to the world. Known for creating meticulously composed, quiet sculptures that reveal a minimal strain, Nabuqi dedicated the exceptional exhibition to children, by making the exhibits touchable, playable and inhabitable.
In this way, Board game: accidental cases concerns a different kind of window display, gently constructing a window that touches, to the extent of becoming a portal. Introducing board games to Gen Z children, Nabuqi's installation re-asserts the import of imagination in the face of overwhelming immersion, restating the significance of the window at work in a flattening display logic — a structure that demands agency and physicality.
In a similar vein, Su-Mei Tse presents A Whole Universe (Lumi's World), an unapologetic copy of her daughter's creation. Before going to bed one evening, Lumi secretly placed toys and figurines in a unique assemblage on her mother's yoga mat. Amused and touched by this simple and innocent gesture, Tse captured the assemblage through a black and white photograph which is placed next to the re-staging of Lumi's assemblage. Lumi played Nabuqi's game and created an adorable, unique window display, before Tse duly made a double of it. Both Nabuqi's and Tse's pieces pertain to the making, breaking and doubling of a window display — instead of merely looking at a window display as a static, temporary spectacle — by introducing the crucial force of the children. On 28 January 1973, the five hundred children who visited the Whitechapel Gallery's exhibition of "Belgian chocolate coins, French lollipops shaped as the Eiffel Tower, gummy mice from Germany, coffee-flavoured Hopjes from Holland, Italian marzipan fruits, salty licorice from Denmark, Irish mints and toffee from Yorkshire… overwhelmed the guard and devoured all the displays."
Just as enticing perhaps, is Phillip Lai's Untitled (2018) bowl of rice. Not only is it a bowl of rice uncooked, the cast polyurethane container is also a bottomless bowl installed sideways. Utterly uneconomical, one may accept it as a window display of a handful of rice — after all, the container reminds one of a porthole, an exceptional type of window (Jan Verwoert and others have written about Lai's interest in integrating components that can be easily mistaken for an airplane's hull); a small ration of rice, though odd, can and should be marketable — with or without the global food crisis in mind. So it is unequivocally an offering gesture, perhaps not a handout, but definitely not a reception, not begging, or is it? May this, in the context of this exhibition, be a bureau de change window that takes as much as (or more than, since excess is often at work in Lai's art) it gives, acknowledging that in the open palm one finds not masks, toys, figurines but foodstuffs that satisfy basic and urgent needs? Strictly speaking, there is nothing that prevents a viewer from taking a grain, or supplying the splash with more. Pertaining inherently to the question of what constitutes a sculpted reality, Lai's Untitled is a poor yet abundant display motioning reciprocity in relation to the window display, a form that by definition separates the viewer from the object, physically or virtually.
Lastly, highlighting the seasonal, rotational nature of a window display (which is this online showroom), Zheng Bo's Drawing Life (Beginning of Summer) (2020) revisits the tradition of tearing pages off a personal notebook. Zheng Bo regularly goes out into the woods to make drawings, emphasising seasonal changes in nature, in relation to the Chinese calendar system of 24 solar terms. Not intended for a window display boasting fine finishings or the rarity of the material, to be sure, the ongoing series is contemplative in essence, representing the artist's intimate experience in and with nature. In a taxonomical, encyclopaedic layout that resembles the standard making of a product catalogue, Zheng Bo, the druid-like artist, encourages us to consider the meaningfulness of stuffing a window display with common plants — that is, deliberately making room for what was always already here, naturally — and the need to cherish the immense potential in temporariness and seasonality.
Highlights.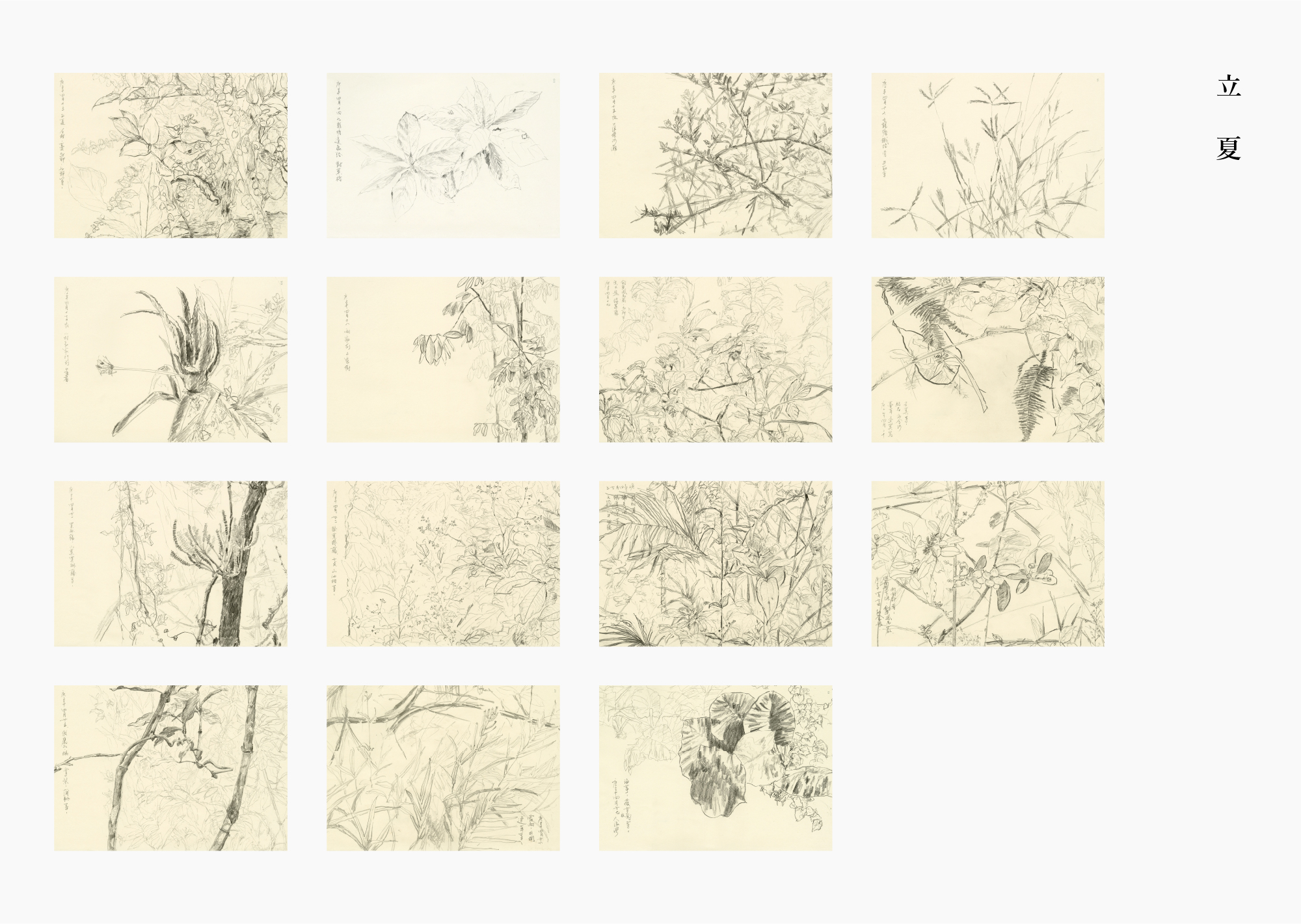 Drawing Life (Beginning of Summer), 2020
[Sold]