Kiang Malingue is pleased to present SSSSSSSSSCULPTURESQUE, an exhibition of artworks by Evgeny Antufiev, Eric Baudart, He Yida, Phillip Lai, Heidi Lau, Oren Pinhassi, Lee Relvas, and Nicole Wermers. By assuming the form of a piece of functionless furniture, a Han Dynasty ceramic burial object, or a toothbrush tree, and by making playful use of mattress springs, a stack of Robin Day chairs, window blinds, rice, dollar bills, door frames, and some Balenciaga coats, the artworks in the exhibition examine the ways in which sculpturesque realities can contribute to our reflection upon domesticity, survival and existence in a post-pandemic era.
Phillip Lai has been pondering labourious means of survival for more than three decades. By manually making perfectly shaped, quasi-industrial forms that may be handled as either a kitchen worktop, or a component for an aeroplane's hull, Lai's impeccably smooth, punctured surfaces re- associate manual means with basic needs and infrastructural necessities. The floor work Untitled (2018) folds a large sheet of fibreglass around a thick pile of used clothes, encasing what is supposed to enclose and protect a human body. It also exemplifies the artist's astute sense in consolidating nebulous forms, providing frameworks for situations that seem arbitrary. Formally addressing the dimensionality of the relief genre itself, the wall-based, portal-like Untitled (2018), retains or is on the verge of splashing a handful of rice. By emphasising what is essential to life, Lai questions the ways in which one may handle a sculpture, or how a sculpted reality of urgency can handle and receive humans.
Turning from the matter-of-factness of the manual world to the glamour that the contemporary reality has to offer, Nicole Wermers examines the subtle changes in public space, and the evolution of elements and factors within. Her sculptures reflect upon the design of products from ashtrays to office furniture, revealing another infrastructural aspect of life that insidiously shapes our vision and body. Both of Wermers' two recent chair stack works in the exhibition dashingly don glamorous Balenciaga coats, but unlike works from the artist's previous series, these in an eerie way do not suggest the absence of a user who probably has just left the room — nobody sits on a stack as such. The gesture of stacking readymade objects casually and gracefully cancels the functionality of the object, and portrays a figure that supplements Phillip Lai's: a fashionable, acephalic anti-scarecrow.
Developing her sculptural practise, writer, musician and artist Lee Relvas uses the most obvious readymade of all: money. Speaking of a psychological-existential crisis that took place when she moved from the Chicago DIY art scene to the New York art world, Relvas acknowledges that one's financial status has to do with her artistic freedom and whether it is possible for an individual to "solve capitalism". Inspired by The House of Mirth by Edith Wharton Relvas creates a series of artworks by incorporating actual dollar bills in her bentwood sculpture. The House of Mirth (2020) named directly after Wharton's novel is a meticulously structured, sculpturesque scene decorated with rubber bands, erasers and dollar bill origami, in which an enveloped human figure in a rather down posture sits on a swing. It is also an honest statement that addresses one's state of mind, and the potentiality of materials in the hands of a sculptor, even when it comes to money, a material that is at once "too real and totally fictional," according to the artist.
Lee Relvas reflects upon her practise in relation to the idea of being suspended, a term that frequently appears in the post-pandemic era. Also interested in creating suspended situations is He Yida, whose Urban waste imitation 3 (2019) echoes Phillip Lai's work by staging a carefully choreographed fall. In giving a voice to the visually overlooked, He challenges the aesthetics of the ordinary, and frequently uses "poor" materials, forging new relationships and functionalist purposes. The door panels, door frames and assorted hardware are assembled as such, for a common and critical goal: to maintain balance as a constellation of things. There was light coming through shining on the imaginary city 1 & 2 (2019) also in the exhibition prints shiny yet ruined scenes on window blinds that crack and droop, presenting once again a balance that opens and maintains portals to safe, domestic environments.
Regarding the composite assemblage of things and the possibility to create and live with pseudo-natural beings in a domestic environment, Oren Pinhassi's Untitled (toothbrush tree) (2019) is born out of a logic the artist has developed called "Erotic Construction". It is a fluid logic that acknowledges the ways in which things are shaping in and are immersed in each other, conceived for a new kind of construction in which categories — nature/architecture, artificial/natural, body/furniture — collapse into each other and form objects that recognise the fragility of our bodies and the environment. In the anthropocene, humans altered what nature is, so mass-produced objects like toothbrushes sprout like flowers out of it. For Pinhassi, it is also an attempt to suggest a coming together of people to participate in an imaginary group oral activity of care and tenderness. The different number of toothbrushes coming out of each leaf/petal suggest that same number of users/bodies who would come together for this intimate activity. The leaves/petals and the holes in them are referencing wall mount toothbrush holders, enmeshing together nature and furniture.
Eric Baudart flips the comfort a domestic setup has to offer in-side-out. Known for reinvigorating a Duchampian tradition of readymade art, Baudart creates Multispire (2014) as exactly what the title suggests: a matrix of spirals. By mounting the work on the wall, the spring mattress stripped bare assumes an alternative position, suggesting either a creative way to sleep, a tough night, an archaic type of torture device, or living conditions of the bare life. The dizzying visual aspect of the work changes its form as an Op Art piece would: a flat, symmetrical monochrome surface from afar and from the front, Multispire only reveals itself as a strange relief that attempts to embrace and support, as you step to its side. Baudart's Fauteuil (2008) is another piece of impossible furniture: there is nothing underneath its cozy appearance. The materials and methods used in creating the work are properly sculptural; as a result, the texture of the couch is not soft to the touch. More pertinent is the fact that it is a ghost couch, not unlike the clichéd figure of the bedsheet ghost. Perfectly unaggressive, Fauteuil presents a mere façade that is playfully deceptive.
The untitled bronze vase (2021) and the mosaic work (2022) by Evgeny Antufiev belong to the artist's total project that explores anew the relationship between the living and the dead. Deeply interested in post- secular conditions, Antufiev creates the bronze vase and embellishes it with figures and creatures on the surface that remind one of folklores, childhood legacies and obscure rituals. His mosaic work is also considered an essential element that decorates, narrates and protects: Antufiev conceives his immersive, total exhibitions as tomb-like environments, in which relics and artefacts are considered magical, empowering their owner and user — the artist himself — as he embarks on a journey for eternity.
Finally, also exploring an uncanny domesticity in relation to memory and life is Heidi Lau, as she builds and adorns spaces and ritual instruments prepared specifically for the apparitional. Lau's multi-faceted architectural miniatures and vessels contemplate what home, intimacy and safety mean today. She uses the old, universal material of clay to create works such as the Chainlink Vessel II (2022) and Dreaming (2021), referencing the artist's own photographic documentation of her hometown Macau, piecing together architectural elements from historical buildings that no longer exist. The series of highly textured, seemingly grotesque ceramic works also reference mingqi: ceramic burial objects found in tombs from Han Dynasty onward. Corresponding to today's post-secular condition, Lau, an avid reader of Taoist classics, ponders the reality of another world, in which sculpted objects are deemed critical to the life and survival of apparitional beings.
SSSSSSSSSCULPTURESQUE    Group Show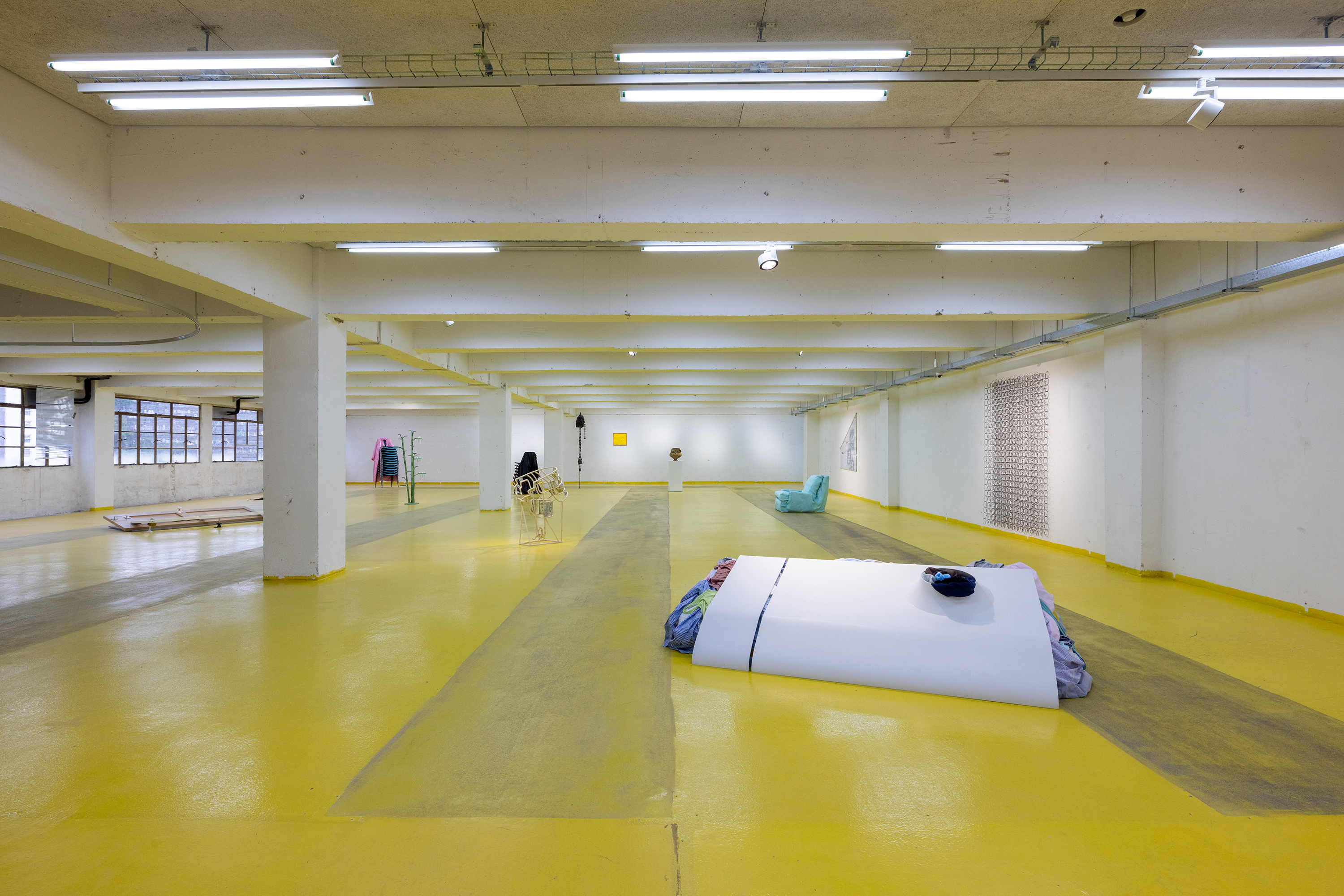 Installation view

Photo by Wong Pak Hang