Edouard Malingue Gallery is pleased to bring together to Art Fair Philippines 2019 a group booth featuring the work of Chou Yu-Cheng (b. 1976, Taiwan), Jeremy Everett (b. 1979, USA) and Zheng Zhou (b. 1969, China).
Modified, shifted or transferred elements amounting to new relationships between status and object: herein lies the pulse of Chou Yu-Cheng's practice that builds, across multiple mediums, a subtle critique of mass media, institutions and the mechanisms that produce them. A graduate from l'Ecole Nationale Supérieure des Beaux-Arts de Paris, and the research programme La Seine, Chou has gained international recognition for his dialectical interplay between the source and results of his creations. On display is a new gradient painting, which follows from his running series but is inspired by the architecture and public transport system in Manila where he spent time in the lead up to his show at the Museum of Contemporary Art in Design. In particular, this work refers to the metal rooftops and jeepneys around Manila, which are a popular mode of transport in the city and identifiable by their bright and colourful decorations. Recent solo shows include Taipei Fine Art Museum, Taipei; Kaohsiung Fine Art Museum, Kaohsiung, amongst others. Group exhibitions include Liverpool Biennial; Museum of Contemporary Art and Design, Manila; Art Basel Hong Kong Encounters; New Museum, New York and others.
Jeremy Everett creates works that exist as the fragment of a sentence, a lyrical exposé, released into the world with precise abandon; the visual confrontation of a new world that exists within yet beyond our own. With an initial degree in Landscape Architecture, Everett traversed into the art of making. Citing inspirations such as Land Art masters Robert Smithson and Michael Heizer, Everett's work stems from a centre of intuition and subtly evolves beyond process and creation; neither never fully created nor complete, its significance is in its evolving state between varying forms of beauty. Presented is 'Gold, Magenta' (2018) and 'Exposure' (2018) created out of light-sensitive emulsion applied to canvas, which creates an ethereal variation of colour across each surface. Everett has held solo exhibitions in Los Angeles, New York, Shanghai, Paris and Hong Kong, amongst other locations. Everett recently participated in a group show at Espacio Tenerife de las Artes and has been exhibited at the Museum of Contemporary Art, Chicago. Everett's practice has been extensively featured in publications and critical reviews including Phaidon, l'Officiel de l'Art, The New York Times, Modern Painters and ArtReview, amongst others.
Zheng Zhou is a painter of instinct, conveying onto canvas observations from the world, as ad hoc as they may be. His strokes, furtive yet decisive, depict an urgency – to grasp, to depict, to capture that mesmeric multitude of the cosmos, the 'phenomena' we, or more precisely he, is a witness to. Referencing 'I Ching' ("The Book of Changes"), Zheng channels the astronomical, remarking the myriad of components that make up our universe, mimicking its duplicity through his subject range, hues and techniques. Figures, crowds, animals, objects – elements of the quotidian are the protagonists of Zheng's vision, except none are depicted quite as is. On display are four works, 'Oneness' (2014), 'God is always with us' (2014), 'All Spirits' (2014), 'Triptych' (2014). In each, faint abstract delineations of animals and people hover behind a glistening trickle of paint, superimposed to create a delicate fumble of anthropomorphic shapes with a mnemonic quality. A prolific painter, Zheng debuted by studying Printmaking at the Zhejiang Academy of Fine Arts, subsequently shifting his practice to painting and lecturing.Throughout these years of tuition and pedagogy, Zheng painted, systematically, before finally relocating to Beijing in 2013 to work as an artist. He recently exhibited at Edouard Malingue Gallery, Shanghai and Hong Kong.
Art Fair Philippines 2019    Chou Yu-Cheng, Zheng Zhou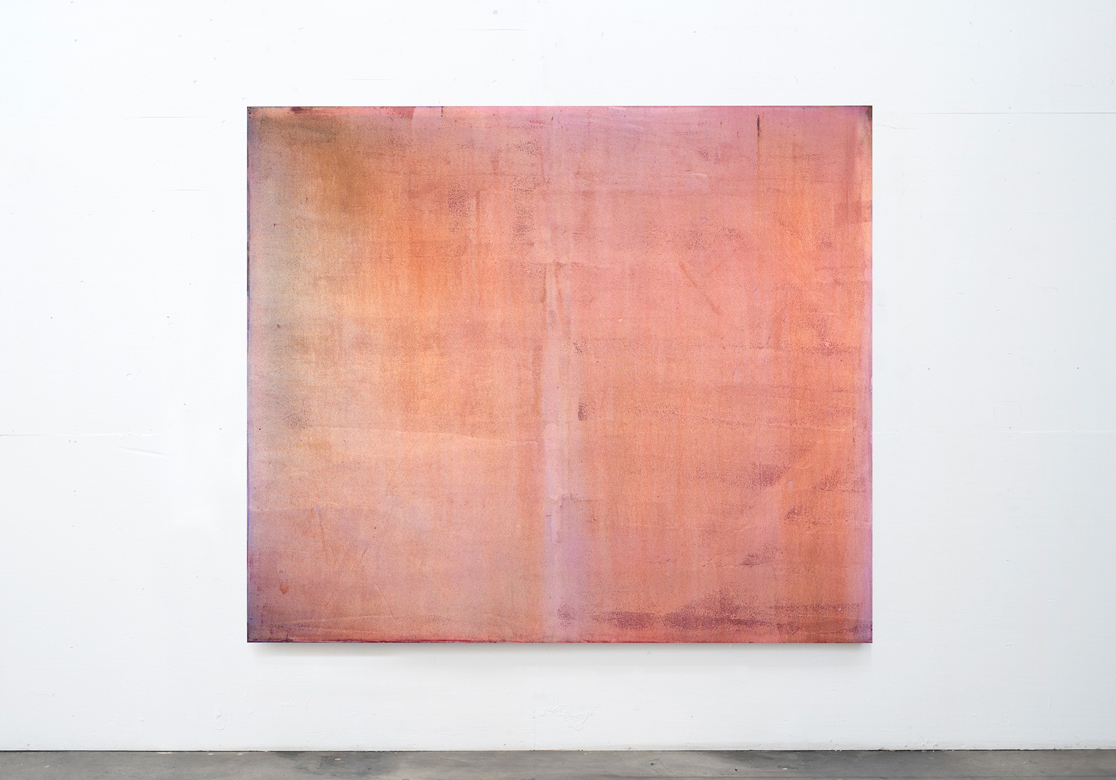 Jeremy Everett, 'Gold, Magenta', 2018

Light sensitive emulsion to expose the surface on canvas
188 x 160 cm