Edouard Malingue Gallery is pleased to announce its participation in Art Shenzhen, both in the main sector and film sector. Channeling a focus on the painterly and pictorial, the booth will present a range of works by Cho Yong-Ik (b. 1934, South Korea), Cui Xinming (b. 1986, China), Wang Zhibo (b. 1981, China), Zheng Zhou (b. 1969, China), Nuri Kuzucan (b. 1971, Turkey), Fabien Mérelle (b. 1981, France) and Laurent Grasso (b. 1972, France). Moreover, oeuvres by Ho Tzu Nyen (b. 1976, Singapore), João Vasco Paiva (b. 1979, Portugal) and Ko Sin Tung (b. 1987, Hong Kong) will be presented in the film sector. As such, the gallery will present a range of artists demonstrating its commitment to placing Asian and Western artists in dialogue with one another across multiple mediums.
On a historical front, there will be a selection of 80s and 90s works by seminal Korean artist Cho Yong-Ik (b. 1934) who is part of the Dansaekhwa (translated into English as 'monochrome painting') rubric of expression, championing repetition, meditation and tranquility through placing the 'act of making' at the heart of creation. Highly lauded as one of South Korea's most important painters, Cho recently held a major solo exhibition at the Sungkok Art Museum, Seoul, whilst further exhibitions include the Samsung Museum of Art, MMCA Seoul & Gwacheon, Arko Art Center Seoul and Fukuoka Museum of Art. His work is held in multiple permanent collections, including M+, MMCA, Seoul Art Museum, Samsung Museum of Art and Gwangu Museum of Art.
Moving towards varying generation of painters emanating from distinct corners of China, Cui Xinming, a recent graduate from the Sichuan Academy of Fine Arts, creates expansive oil on canvas works that express, in an elaborate and vivid painterly style, the tumultuous thoughts and reflections of a younger Chinese generation. On display will be paintings from his recent 'Festival' series which take inspiration from the four distinct seasons of Northern China and the memories Cui harbours of his hometown, pointing to the forgotten corners of China's second and third tier cities. Recently selected for the prestigious 2015 'Luo Zhongli 10 Years Review Exhibition' at the Chongqing MOMA, Cui has previously held solo shows in Shanghai, Hong Kong and has been exhibited in Istanbul, Berlin, Beijing and Chengdu, amongst other locations.
Equally addressing societies and modes of civilisation, Wang Zhibo creates oil on canvas paintings that transcend traditionalism through the subject matter depicted, which is both curious and challenging. 'Tristes Tropiques II', for example, focuses on a leafy tropical landscape, which absurdly presents a collection of exotic leaves coated by a fine layer of misty snow, probing our geographical understanding. Wang's work has been exhibited from Paris and Hong Kong to New York and Guangzhou, including exhibitions at the Villa Vassilieff, Paris (2017); Chongqing Art Museum, Chongqing (2015); Penrith Regional Gallery, Sydney (2014); Museum of Contemporary Art, Taipei (2013); Today Art Museum, Beijing (2008). Wang's work is additionally featured in Luise Guest's book on female Chinese artists 'Half the Sky' (2016).
Zheng Zhou similarly conveys onto canvas observations from the world, as ad hoc as they may be. His strokes, furtive yet decisive, depict an urgency – to grasp, to depict, to capture that mesmeric multitude of the cosmos, the 'phenomena' we, or more precisely he, is a witness to. A prolific painter who has till 2017 never exhibited publicly, Zheng debuted by studying Printmaking at the Zhejiang Academy of Fine Arts, which led to a post at the Printmaking Department of the China Academy of Arts from 1994 to 1996. Zheng subsequently shifted his creative practice towards one of painting, pursuing a Masters in Oil Painting at the China Academy of Art from 1997 to 1999, following which he became a lecturer at the China Academy of Art Affiliated High School from 2000-2010. Zheng relocated to Beijing in 2013 to work as an artist.
Shifting continents and towards a consideration of the urban, Nuri Kuzucan is a foremost Turkish painter who creates canvases that relate to the metropolis. Focusing on the global lexicon of cosmopolitan landscapes, Kuzucan explores through multiple layers of paint the characteristics major cities carry, fleshing out their idiosyncrasies as well as homogenisation. On display are 'Surfaces' (2016) and 'Untitled' (2015), which depict two viewpoints of urban life; the former appears to focus on a skyscraper side, its quadrangular structure and systematic mirroring of surroundings, whilst the latter takes a more distant perspective, offering a wider street view. In addition to participating in numerous international group and solo shows, Kuzucan's work has been exhibited in public collections such as the Pera Museum, Istanbul and is part of the permanent collection at the Museum of Modern Art, Istanbul.
Fabien Mérelle creates intricate drawings depicting outworldly scenarios, unsettling situations and dream-like occurrences. Often working on a minute scale against a sparse white background, Mérelle prompts the viewer to individually examine his figures and peer into a world, which from the outset may appear as our own, but upon closer inspection is a rendering of a personal streaming subconscious. Mérelle has been exhibited internationally at Lieu Unique, Nantes (2015); Drawing Center, New York (2015); UQ Art Museum, Brisbane (2014); Musée des Beaux Arts de la Rochelle, La Rochelle (2013); Centre Pompidou, Paris (2013). Mérelle's work is held in several private and public collections including the Centre Pompidou, Paris and Daniel and Florence Guerlain contemporary art foundation in Paris.
Laurent Grasso is a conceptual artist working across multiple mediums who transports you into a realm of impossibility and actuality, knowledge and belief. Blurring our concepts of past, present and future, the 'Studies into the Past' works combine medieval painting techniques with scenarios from seemingly the same period that introduce an element of impossibility or scientific incomprehension. Grasso has been widely exhibited around the world, including shows at ZKM, Karlsruhe (2017); MASS MoCa, North Adams (2017); Pompidou-Metz, Metz (2016); Fondation Etrillard, Paris (2016); Jeu de Paume, Paris (2012). In 2016 Grasso unveiled 'Solar Wind', a major public permanent installation in the 13th District, Paris.
///
Edouard Malingue Gallery is additionally thrilled to present three artists in the film sector. Ho Tzu Nyen's films unravel unspoken layers of Southeast Asian history whilst equally pointing to our own personal unknowns. 'EARTH' (2009), for example, constitutes human bodies, seemingly piled up in the wake of an unspecified catastrophe, along with a tangle of wires and cables, stacks of wooden pallets, cardboard boxes, dead fish and fluorescent light tubes. A direct reference to Caravaggio's The Incredulity of Saint Thomas (1601–02) and his technical use of 'chiaroscuro', the work is brought to life by the score that coincides with the tentative ruminations of the emerging visual elements.
João Vasco Paiva is a Hong Kong/Lisbon-based artist who observes the complex and continuously shifting characteristics of objects and spaces. 'Threshold' (2013), shot in the commercial and congested areas of Sham Shui Po, Mong Kok and Causeway Bay, shows clips of eye-level landscape, blanked of all pieces of text so that all advertising is removed from vision. The video as such urges a revelation: that so much of what we see is accepted within our periphery of vision, despite being visual pollution, while instead so much of what we do not look at twice, actually has aesthetic qualities and is worthy of contemplation.
Ko Sin Tung investigates, through a myriad of mediums and materials, the psychological influences private objects project and the idiosyncratic functions they've been personally channeled to fulfill. 'Every Unit' (2017) illustrates how Ko Sin Tung observes the city's inhabitants, their close-quarters, and identifies with curiosity their values as dictated through the items they treasure and keep, slowly observing how these objects mirror ways of life, or in the very least, illustrate what is expected for living.
Art Shenzhen 2017    Cho Yong-Ik, Cui Xinming, Fabien Mérelle, Wang Zhibo, Zheng Zhou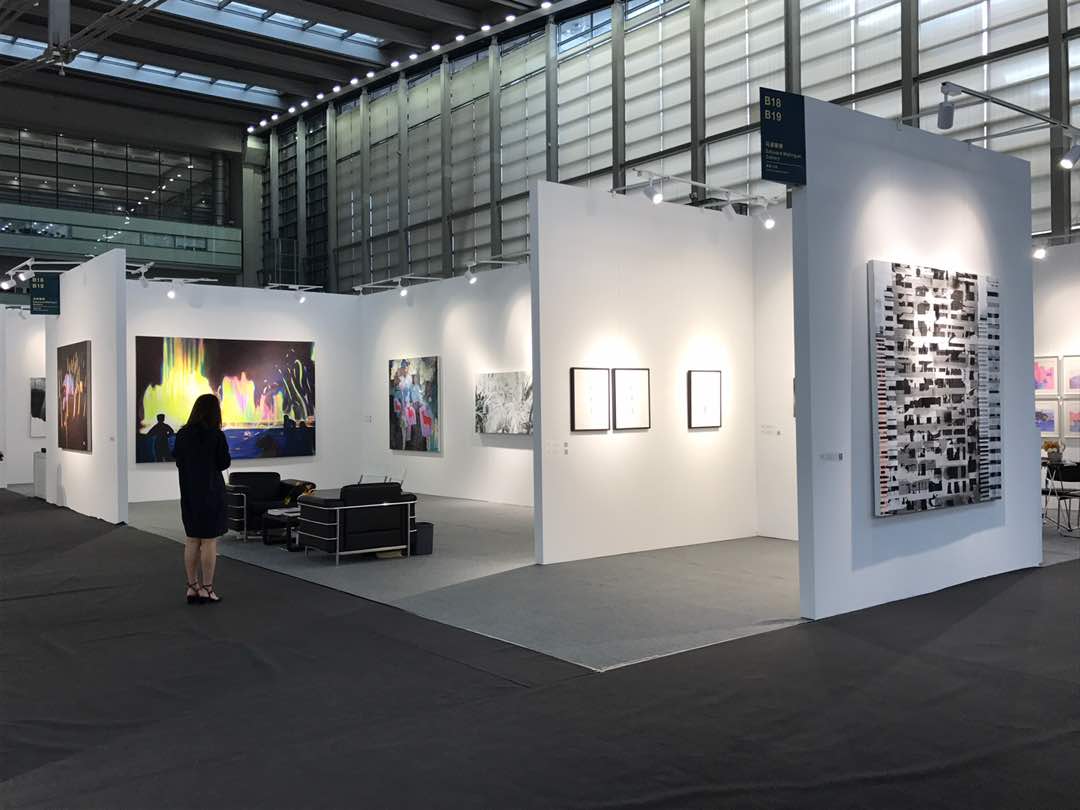 Installation view