Edouard Malingue Gallery is pleased to be participating in ART STAGE Jakarta, presenting the work of Laurent Grasso (France, 1972), Tromarama (Indonesia, 2006) and Yuan Yuan (China, 1973).
Laurent Grasso is a chief conceptual artist who through his works, individually and collectively, transports you into a realm of questioning and discovery, impossibility and actuality, knowledge and belief. On display are three oil paintings from his 'Studies into the Past' series – meticulous and heavily researched narratives, which arrange the past and future in an unknown timeline. Grasso has been widely exhibited at MASS MoCa, Massachusetts (2017); Pompidou-Metz, Metz (2016); Fondation Etrillard, Paris (2016); Jeu de Paume, Paris (2012). In 2016 Grasso unveiled 'Solar Wind', a major public permanent installation in the 13th District, Paris.
Tromarama are a collective widely considered one of Indonesia's most exciting rising talents; composed of Febie Babyrose, Ruddy Hatumena and Herbert Hans, their playful work that spans video to lenticular prints infuses the ordinary with novel means of contemplation in the context of urban life, developments and political reverberations. On display will be the video work 'Quandry' (2016) and lenticular print 'I Do' (2015), both of which reflect Tromarama's ability to continually shift perspective with energy and dynamism, Tromarama have held multiple exhibitions including the Liverpool Biennial, Liverpool (2016), Gwanju Biennial, South Korea (2016); Stedelijk Museum, Amsterdam (2015), National Gallery of Victoria, Melbourne (2015), and Mori Art Museum, Tokyo (2010).
Yuan Yuan is an established Chinese painter who approaches the canvas as an exploration of humanity and the passing of time. Oil painting 'The Circular Ruins' (2017), depicts grand curtained rooms, devoid of human presence yet decorated by relics of unknown inhabitants, an element which stands in contrast to the otherwise regal scene. Yuan's work has been exhibited in Paris, Hong Kong, Singapore, Shanghai, Yokohama, Taiwan and is held in numerous private collections, including the White Rabbit Collection, Sydney and Pomeranz Collection, Vienna.
ART STAGE Jakarta 2017    Tromarama, Yuan Yuan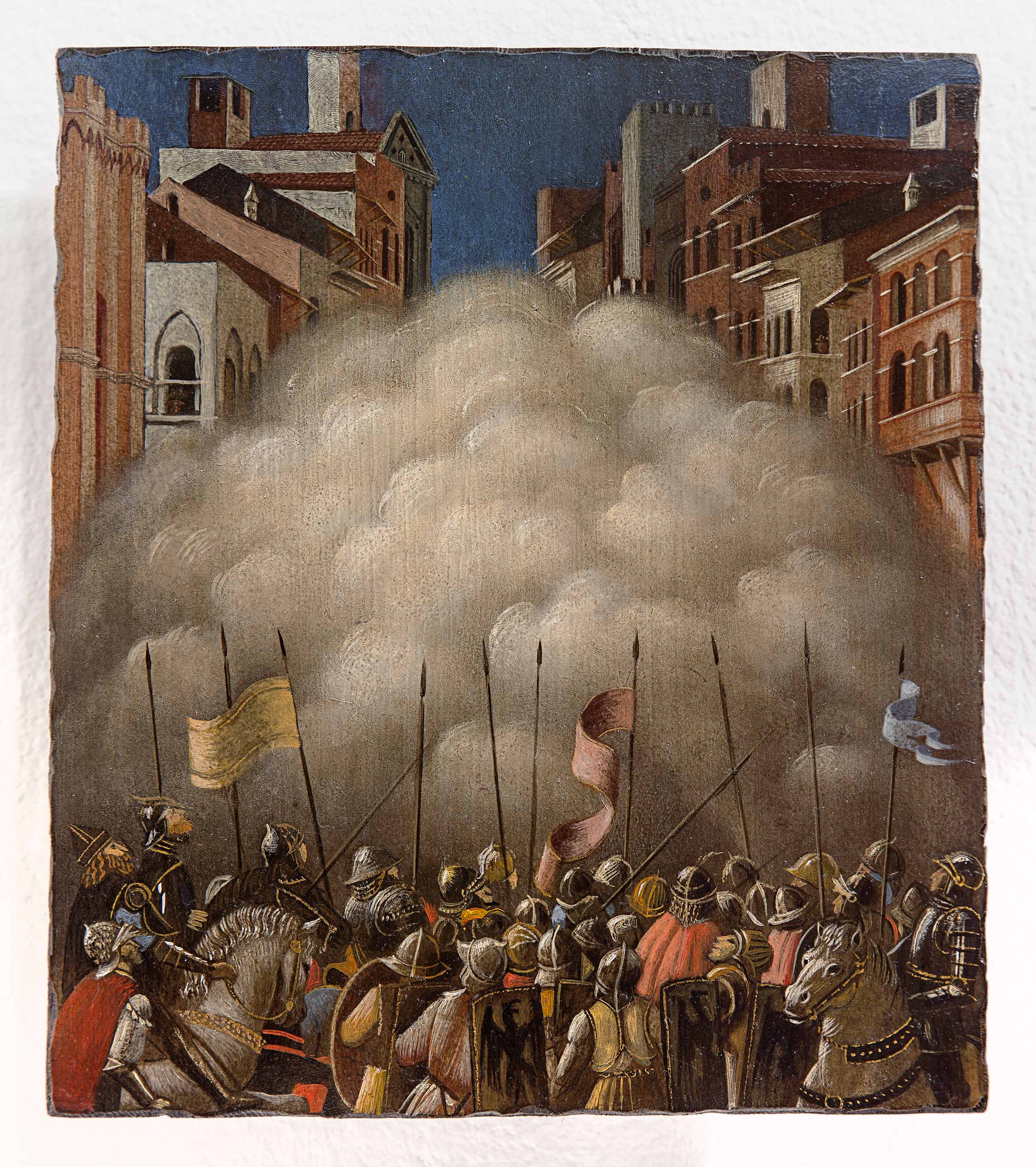 Laurent Grasso

'Studies into the Past'
Oil on wood
24 x 22 x 5.5 cm