Edouard Malingue Gallery is thrilled to congratulate Cui Xinming, Wang Zhibo and Yuan Yuan, who have been selected amongst 201 Luo Zhongli Fellowship recipients to participate in 'Luo Zhongli Fellowship Ten Years Review Exhibition' at the Chongqing Art Museum, Sichuan Fine Arts Institute.
Cui Xinming (b. 1986, China) is an emerging Chinese artist who creates expansive oil on canvas works that express, in an elaborate and vivid painterly style, the tumultuous thoughts and reflections of a younger Chinese generation that is living through a period of constant change. He has been exhibited in Istanbul, Berlin, Beijing and Chengdu, amongst other locations. In 2010, Cui was nominated for the 1st Zhang Xiaogang Graduate Contemporary Art Scholarship.
Wang Zhibo (b. 1981, China) is an emerging Chinese artist who creates oil paintings that depict interior and exterior settings, as well as anomalous compositions. Seemingly realistic yet illusory, it is this combination that gives her paintings an eerie yet engaging force. In 2008 Wang was awarded the Luo Zhongli Scholarship for her sensitive and evocative Garden paintings. Her work has since received nation-wide attention and has been exhibited at various institutions across China, including the Chongqing Art Museum, the Today Art Museum in Beijing and the Museum of Contemporary Art in Taipei.
Yuan Yuan (b. 1973, China) is an established Chinese painter who approaches the canvas as an exploration of the interior and exterior of spaces that manifest traces of humanity and a passing of time. Notably vacant, the areas portrayed balance an apocalyptic aura of desolation with a distinct sense of previous inhabitation, Yuan Yuan's work has garnered critical acclaim worldwide and has been exhibited in multiple international locations including Paris, Hong Kong, Singapore, Shanghai and Taiwan. His paintings are held in numerous private collections, including the White Rabbit Collection, Sydney and Pomeranz Collection, Vienna.
Luo Zhongli Fellowship Ten Years Review Exhibition    Cui Xinming, Wang Zhibo, Yuan Yuan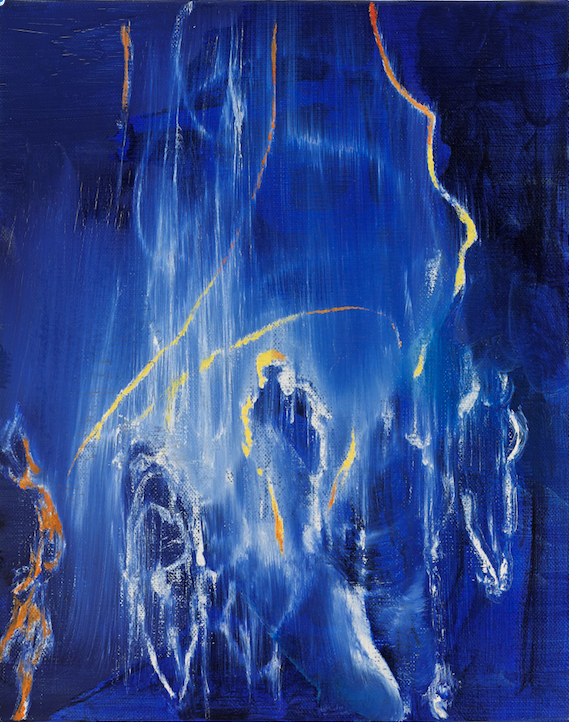 Glory

Cui Xinming
2014
Oil on canvas
30 x 24 cm