Edouard Malingue Gallery is pleased to announce its participation in Art Fair Philippines 2016. The gallery is presenting a group exhibition featuring works by Cui Xinming, Fabien Mérelle, Jeremy Everett, Laurent Grasso, Tromarama, Wang Zhibo, and Yuan Yuan.
Cui Xinming (b. 1986, China) is an emerging Chinese artist who creates expansive oil on canvas works that express, in an elaborate and vivid painterly style, the tumultuous thoughts and reflections of a younger Chinese generation that is living through a period of constant change. He has been exhibited in Istanbul, Berlin, Beijing and Chengdu, amongst other locations. Cui was selected for the 2015 Luo Zhongli Fellowship Ten Years Review Exhibition at the Chongqing Museum and in 2010 was nominated for the 1st Zhang Xiaogang Graduate Contemporary Art Scholarship.
Fabien Mérelle (b. 1981, France) is a highly talented and emerging young French artist who creates delicately detailed drawings in black ink and watercolour. A recent graduate from the Beaux-Arts academy in Paris, Mérelle received a scholarship in 2005 to attend the Beaux-Arts academy in Xi'An, China. Already passionate about the art of drawing, this trans-global opportunity permitted Mérelle to discover and perfect the use of alternative Eastern drawing techniques, such as Chinese ink. Upon his return to the West, Mérelle was granted a residence at the prestigious Casa Vélasquez in Madrid and in 2010 he was the first winner of the highly lauded Canson Prize.
Jeremy Everett (b. 1979, USA) is a highly celebrated emerging artist who has held solo exhibitions in Los Angeles, New York, Paris and Hong Kong. He creates works that at once allude to the poetics of ephemerality as well as extend the traditional, physical 'act' of painting. Everett recently held a residency at Hooper Projects in Los Angeles and upcoming projects include an exhibition at GRANPALAZZO, Rome. Furthermore, Everett's work has been exhibited at the Museum of Contemporary Art, Chicago. His practice has been extensively featured in publications and critical reviews including Phaidon, l'Officiel de l'Art, Muse Magazine, The New York Times, The Smithsonian Magazine, Flash Art, Modern Painters and ArtReview, amongst others.
Laurent Grasso (b. 1972, France) is a leading conceptual artist who engages with epistemology. Across multiple mediums, Grasso probes our notions of temporality, suggesting that what we visually retain is intrinsically tied to our personal consciousness. Grasso has held residencies at the Ville Medicis, Rome and ISCP, New York. In 2016 he unveiled the permanent public installation 'SolarWind' in the 13th district in Paris and in 2008 was awarded the prestigious Marcel Duchamp prize. Grasso was recently the focus of a major solo exhibition 'Uraniborg' at the Jeu de Paume, Paris, which travelled to the Museum of Contemporary Art, Montreal and was the subject of solo shows at the Kunsthaus Baselland, Basel and Bass Museum, Miami.
Tromarama (est. 2006, Indonesia by Febie Babyrose, Ruddy Hatumena and Herbert Hans) are widely considered one of Indonesia's most exciting rising talents and have been exhibited around the world. The trio have been developing inventive responses to contemporary urban culture that, rather than existing in viewership isolation,are woven into the larger cultural fabric of the city of Bandung, addressing in interactive reflection the cornerstones of Indonesia's socio-political environment. Tromarama have held solo exhibitions at the Stedelijk Museum (Amsterdam), National Gallery of Victoria (Melbourne), Mori Art Museum (Japan), and will be showing a major installation 'Private Riots' at the Encounters section, Art Basel Hong Kong 2016.
Wang Zhibo (b. 1981, China) is an emerging Chinese artist who creates oil paintings that depict interior and exterior settings, as well as anomalous compositions. Seemingly realistic yet illusory, it is this combination that gives her paintings an eerie yet engaging force. In 2008 Wang was awarded the Luo Zhongli Scholarship for her sensitive and evocative Garden paintings. Her work has since received nation-wide attention and has been exhibited at various institutions across China, including the Chongqing Art Museum, the Today Art Museum in Beijing and the Museum of Contemporary Art in Taipei.
Yuan Yuan (b. 1973, China) is an established Chinese painter who approaches the canvas as an exploration of the interior and exterior of spaces that manifest traces of humanity and a passing of time. Notably vacant, the areas portrayed balance an apocalyptic aura of desolation with a distinct sense of previous inhabitation. Yuan Yuan's work has garnered critical acclaim worldwide and has been exhibited in multiple international locations including Paris, Hong Kong, Singapore, Shanghai and Taiwan. His paintings are held in numerous private collections, including the White Rabbit Collection, Sydney and Pomeranz Collection, Vienna.
Art Fair Philippines 2016    Cui Xinming, Fabien Mérelle, Tromarama, Wang Zhibo, Yuan Yuan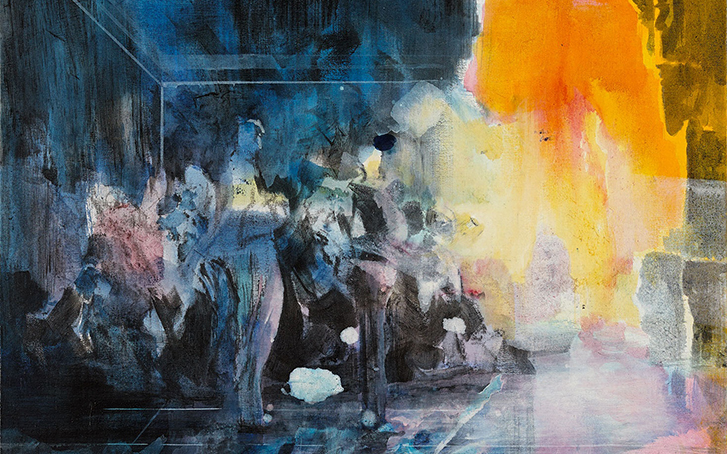 Cui Xinming, Sleepwalker No. 10, 2014, mixed media on canvas, 40 x 50cm