Edouard Malingue Gallery is delighted to announce its participation across four sections of FIAC 2017: General Sector, Hors Les Murs, On Site and Cinéphémère. On the booth, works by Chou Yu-Cheng, Su-Mei Tse and João Vasco Paiva will be presented. As part of Hors Les Murs in Jardin des Tuileries, João Vasco Paiva will exhibit two new public installations. Spreading across Avenue Winston Churchill, Wang Wei is creating a site specific work and finally Ho Tzu Nyen is part of Cinéphémère.
Time is at the heart of Edouard Malingue Gallery's proposal; presenting works by Chou Yu-Cheng, João Vasco Paiva and Su-Mei Tse, the booth weaves a narrative between Eastern and Western geographies rooted in individual modes of contemplating a sense of passing as evinced through actions, urban environments and individuals.
Chou Yu-Cheng (b. 1976, Taiwan) employs a systematic, long-term and deliberate process of engagement to build a subtle critique of institutions and the mechanisms that produce them. 'A Working History – Lu Chieh-Te' follows a lengthy exchange between the artist and Lu Chieh-Te – a near sixty-year-old temporary worker. Presented in the centre of the booth is a platform with a collection of booklets, which viewers are invited to sit on and read. The result of a series of interviews conducted with Lu, each text poses questions on his history over the last 45 years. 'A Monochrome – A Working History' (2013) further exemplifies the artist's emphasis on paced creation; seemingly by Chou's own hand, the painting was actually created by Lu, invited by the artist to systematically fill in the canvas. Thus, through collaborative processes, Chou builds, over a period of time, a critique on societal notions of authorship and acknowledgement.
João Vasco Paiva (b.1979, Portugal) is a Hong Kong-based artist who via the urban, considers the push and pull between construction and eventual dereliction. This conundrum is emphasised by Paiva's 'Untitled – Sunday' (2016) series – cement casts of the cardboard slabs domestic helpers use as ephemeral structures on Sundays, their day of rest. By rendering them in building materials, yet adding lacquer, Paiva extends their temporality whilst highlighting the cycle of human action.
Of British and Chinese descent, Su-Mei Tse (b. 1973, Luxembourg) pursues a pluralistic practice that investigates associations between geographies, cultures, traditions. Tse elicits a cross-stimulation of the senses, where time and its flow are suspended in a gentle state of contemplation. 'Pas de Neige' (2015), a video presented on a flat screen, shows Tse slowly panning the pebbled courtyard of the Villa Medici, sliding with measured deliberation a floor sweep. The repeated, lengthy movements create dimples of impact on the site's visual composition, mimicking in its periodic accumulation of change the marked passing of time by an hourglass. Emphasising a sense of fragility as associable with time is 'Rote Leiter (The Scale)' (2014), a delicately perched ladder made of red iron, a material that contrasts with its physical presence. Inspired by, and developed during Tse's recent residency at the Villa Medici, the viewer encounters photographs, moving images (video), objects, mirrors, references of collected memories that hark back but are not limited to her time in Rome. In 'Rome (Athena)' (2017), each image reflects an emotion: the bust of Adriana – a hymn to past history, traced by the degradation of time whilst bearing delicacy of expression and detail.
In Hors Les Murs, tackling the differences or indeed common ground between art sacra and entertainment, Paiva's Taman Creatures consists of replicas of two sculptures found in the abandoned Taman Festival Park in East Bali, which closed its doors in 2000. Originally carved as frogs out of mediocre material, the statues rapidly devolved into a state of semi-destruction. Replicated using Batu Candi stones, which in Bahasa means "temple stone" – a dark coloured lava rock that was initially used to build Hindu temples and shrines in the Indonesian archipelago – Paiva explores and documents the aesthetic qualities of the modern ruin whilst building a dialogue on what remains for posterity in current society.
Addressing the notion of an archeology of the present, Paiva presents an enigmatic life-size replica of a modular kitchen that encourages interaction. In taking the structure outside of its domestic or hospitality context and into the public realm, Paiva addresses our existent relationship with ordinary spaces, especially those that have a custom of bringing people together. Paiva collaborated with artisans in east Bali who still use the traditional method of carving large Batu Candi stones. As such, the installation follows from Paiva's interest in unfolding the structures of contemporary life, whilst placing particular emphasis on the constructed sum of human activities from the ordained to the ordinary.
Furthermore, Wang Wei's (b.1972, Beijing) public installation 'Natural History 4 (square)' (2017) in On Site follows from Wang's interest in creating immersive settings that are not so much artworks but rather vehicles for situating artifice in the context of life. As such,Wang Wei actively appropriates existing spaces and visual elements, which he then enlarges and adapts according to the exhibition setting. Through this intrinsic process of engagement and decontextualisation, he questions the veracity of natural forms before fresh eyes and constructs windows for investigating new layers of meaning.
Spanning the Avenue Winston Churchill, 'Natural History 4 (square)' (2017) is a mosaic tile platform illustrating a pattern intrinsic to those found in Dongguan, Guangdong. Viewed and interacted with, Wang Wei aims to transport a material that is often used in China to cover large surfaces of buildings onto the streets of Paris, creating a parallel between modes of construction, decor and personal living.
Indeed, Wang Wei aims to build on his running consideration of displacement regarding time and context. The mosaic tile, recognised as an "affordable material of very high quality" in China takes on a different role in the context of an art fair on the other side of the world. Open to observation, Wang Wei deliberately defies the material's original purpose and presents a contradiction of actual reality, fleshing out a state of confusion, potential suspicion, isolation and transmutation.
Ultimately in Cinéphémère will be presented, Ho Tzu Nyen's (b. 1976, Singapore) complex practice primarily constitutes video and installation that often times serve to portray an amalgamation of historical facts additionally supported by musical references and allegorical lighting. 'The Name' (2015) is a montage of assorted footage extracted from traditional, American films, that were based on the concept of a struggling male author and his experiences with the excruciating process of writing. 'The Name' constitutes heavily-researched texts of author Gene Z. Hanrahan, from his work 'The Communist Struggle in Malaya'. Ho Tzu Nyen's clever use of cinematic and artistic tools show his ability to present the originality and beliefs associated with the colonial narratives and historiography of the Malay Peninsula during the colonial era.
FIAC 2017    Chou Yu-Cheng, Ho Tzu Nyen, Su-Mei Tse, Wang Wei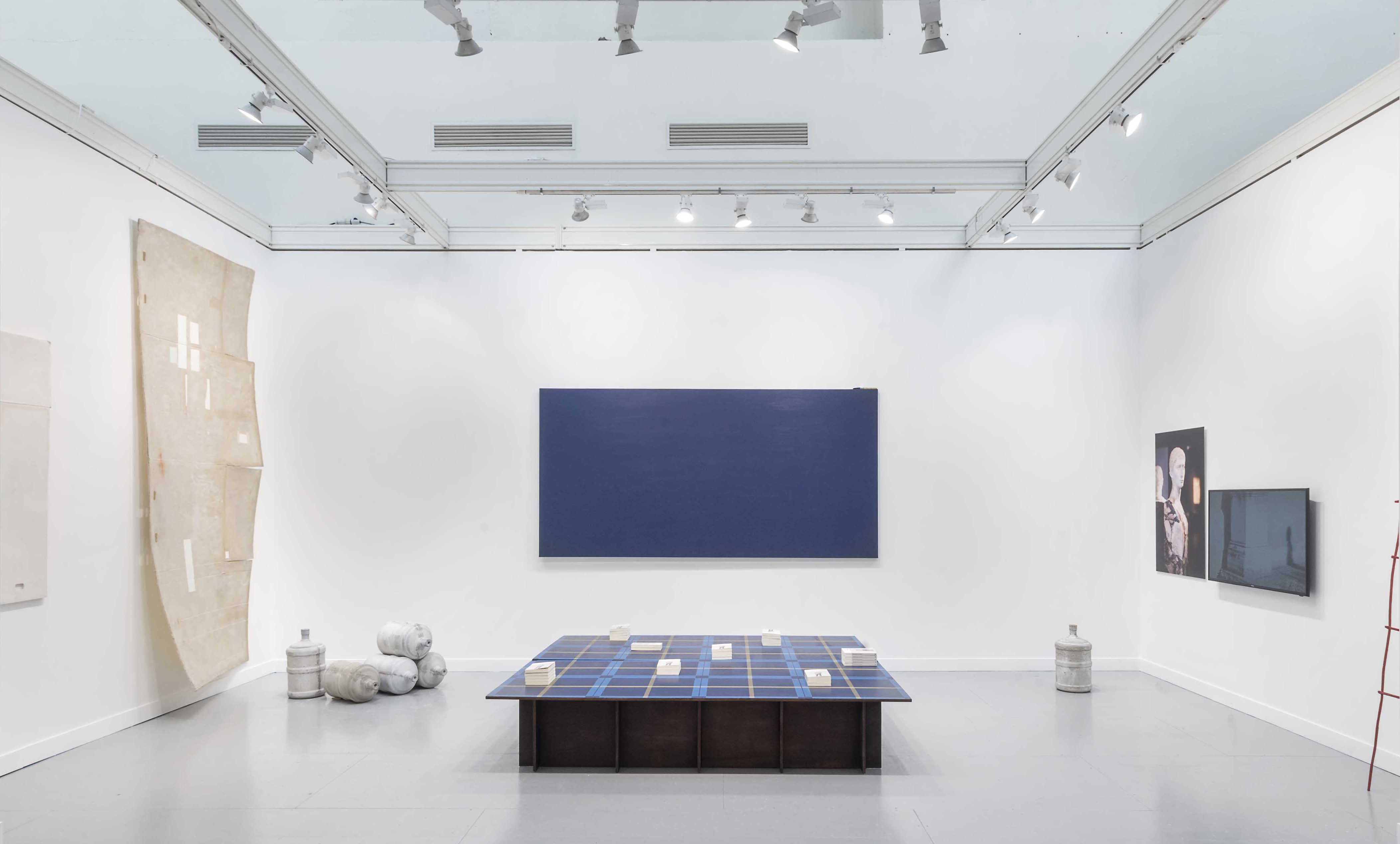 Installation view

Booth 1H05