Following its successful launch last year, Edouard Malingue Gallery is delighted to host 2019 Condo Shanghai alongside six participating local art spaces from the city, which will welcome fourteen international galleries. Condo takes its name from 'condominium' and represents a new format for international galleries to collaborate in exhibition-making: host galleries share their spaces with visiting galleries – either by co-curating an exhibition together, or dividing their galleries and allocating spaces.
For the 2019 edition of Condo Shanghai, Edouard Malingue Gallery is presenting a group exhibition, 'The Spectre of Order', in collaboration with three Latin American galleries. LABOR (Mexico City) will present paintings by Spanish artist Jerónimo Elespe; 80m2 Livia Benavides (Lima) will present works by Peruvian artist Fátima Rodrigo; Proyectos Ultravioleta (Guatemala City) will present a performance and installation by Guatemalan artist Regina José Galindo. As the host gallery, Edouard Malingue Gallery is proud to present the works of Portuguese artist João Vasco Paiva in dialogue with the guest artists on the same platform.
Fátima Rodrigo was born in Lima, Peru, in 1987. She studied visual arts at the Pontificia Universidad Católica del Perú and was awarded the Beca Mundi at Flora arts+natura, Bogota, 2017. In 2018, she took part of Gasworks residency program in London. Using a language close to Post-Painterly Abstraction, Fatima Rodrigo analyzes the representation of modernism and gender identity in Latin America and how these influence our desires and interactions through repeated behaviors that shape conventions, eventually becoming a canon, especially affecting women. Her work ranges from interactive installations to drawings and artisanal textile pieces through which she investigates how this concept of modernity could be understood as aesthetics, a moment in history, and an aspiration.
A graduate from the Porto Arts Institute, João Vasco Paiva (b. 1979, Coimbra) moved to Hong Kong in 2006 to complete a Master of Fine Arts in Creative Media. Upon graduation with distinction in 2008, Paiva set to create works in multiple mediums, which consistently explore how urban spaces may serve as catalysts for aesthetic production. While Paiva's work is intrinsically tied to Hong Kong, it resounds with dense urban environments around the globe, suggesting that cities, regardless of location, share certain visual and physical lexicon which may be reduced to informative truths about the age of hypermodernity we are living in. On display is 'Benches, Stairs, Ramps, Ground', which stems from Paiva's residency in New York. Made of industrial materials, the work draws on the formal qualities of urban furniture such as park benches, hand rails and staircases. Skateboarding is used as a tool to draw, mold and destroy the pictorial of these structures. Paiva simulates degradation on the sculptures by applying satellite images of the earth as texture, and then allowing skaters to act upon the materials as they might in a city park, thus blurring the abstract landscape. A meditation on Paiva's continued interest in 'non-places' and human interactions in relation to public facilities, 'Benches, Stairs, Ramps, Ground' invites, through its usurping of our quotidian surroundings, reflections on the intricate layers between the actual and the natural, between the fictional and the fabricated. 
A visual artist and poet whose main medium is performance, Regina José Galindo (b. 1974, Guatemala City) uses the context of Guatemala City as a departure point to critique social violence and injustice such as racial and gender discrimination, as well as abuse of power in Guatemala and elsewhere. An artist who pushes beyond her own limits through radical, disturbing, and ethically uncomfortable performances, Galindo has exhibited widely at Documenta, Venice Biennale and Sharjah Biennial, amongst others. She was the recipient of the Leone d'Oro for the Best Young Artist of the 51st Venice Biennale, and her work is in the public collections of institutions including MoMA, Tate, Solomon R. Guggenheim Museum, and Centre Pompidou. On display is 'Potencia Mundial' (World Power), a commission Galindo created for 2019 Wuzhen Contemporary Art Exhibition, the opening of which saw the artist driving a Chevy into the venue, and a group of Chinese workers dismantling it whilst she sat in the car. The presentation at Condo Shanghai will feature the remnants of the car alongside a dismantled iPhone.
At the heart of Jerónimo Elespe's (b. 1975, Madrid) paintings is a slow, cumulative process of addition and subtraction lasting months or even years, which reveals painting itself as a platform to investigate the nature of time and memory. Taking autobiographical references as a departure point, Elespe examines the possibilities of painting and drawing as a record of both reality and fiction. Often working in very small formats, Elespe explores the physical properties of his works as an opening to the contradictory space between the purely objectual part of the reduced pieces – markedly physical – and their themes as pointers to the immaterial. Informed by his thorough study of the history of painting, Elespe cites inspirations such as the symbolist, the decadent French literature of the late 19th century, Donald Barthelme, and JG Ballard to weave a dialogue between reality and fiction, wherein art is simultaneously a personal journal, a semantic experiment, and a pictorial repository of mnemonic narratives.
///
Fátima Rodrigo's most recent solo shows include: Lo que un día fue No sera, Livia Benavides, 80M2, Lima, 2018; Mala Mujer, Valenzuela Klenner Gallery, Bogotá, 2018; Geometría Sentimental, Lucía de la Puente Gallery, Lima, 2016; Otras Tardes, Garúa, Lima, 2015; and Romántico Elegante, Ricardo Palma Cultural Centre, Lima, 2013. She has taken part in numerous group shows, most notably: Los nuevos sensibles, Matucana 100, Santiago de Chile, 2018; Concurso de Arte Contemporáneo, ICPNA, Lima, Perú, 2018; Ciber café, Amazonas Shopping Centre, Hamburger Bahnhof, Berlín, Alemania, 2017; Feminicidio: ¡Ni una menos!,Memory and Reconciliation Centre, Bogotá, 2017; Muere 100, Valenzuela Klenner Gallery, Bogotá, 2017; KM 55, Bienal Sur, Buenos Aires, 2017; Espejo negro, elefante blanco, El cuarto de máquinas, Mexico City, 2017; Generación Y, Y gallery, Lima, 2017; Aló Teresa, Bisagra, Lima, 2016; Bienal tropical, San Juan, 2016; Art Fair Show, Flux Factory, New York, 2015; 17th Concurso Pasaporte para un Artista, Centro Cultural PUCP, Lima, 2014; La tres veces coronada, Fine Arts Cultural Centre of Perú, Lima, 2013; ViVO 3.0 for Time Canvas, Museum of Contemporary Art, Antwerp, 2012; and Ostrale '012, Dresden Biennale, Dresden, 2012.
Jerónimo Elespe's solo exhibitions has been exhibited internationally, including Maisterravalbuena, Madrid, Spain, 2018; Eleven Rivington, United States, 2015; Ivorypress, Madrid, Spain, 2014; Sikkema Jenkins & Co, United States, 2012; Galeria Pedro Cera, Portugal, 2012; Nusser & Baumgart, Germany, 2012; Centro de Arte Contemporáneo (CAC), Málaga, Spain, 2012; Galeria Soledad Lorenzo, Madrid, Spain, 2019 among other locations. His selected group exhibitions include Van Doren Waxter, New York, United States, 2018; Museo Reina Sofia, Madrid, Spain, 2017; CentroCentro, Madrid, Spain, 2015; Museo de Arte Contemporáneo, Santander, Spain, 2013; Nusser & Baumgart, Munich, Germany, 2012; Mitchell Algus Gallery, New York, United States, 2010; Nusser & Baumgart at Leipziger Baumwollspinnerei, Leipzig, Germany, 2009 among others.
João Vasco Paiva has held solo exhibitions at Absolut Art Bar, Hong Kong, 2017; National Museum of Contemporary Art Museu do Chiado, Lisbon, Portugal, 2016; Media Art Asia Pacific (MAAP), Brisbane, Australia, 2015; Counter Space, Zurich, Switzerland, 2015; Casa Garden – Fundaçao Oriente, Macao, 2014; Goethe Institute, Hong Kong, 2013; Hanart Tz Gallery, Hong Kong, 2010 among others. Group exhibitions include Bold Tendencies, London, UK, 2018; CFCCA, Manchester, UK, 2018; Capsule Shanghai, Shanghai, China, 2017; PRACTICE, New York, USA, 2017; CAFA Art Museum, Beijing, China, 2016; Lichtenberg Studios, Berlin, Germany, 2014; The Cube Project Space, New York, USA, 2013; Para/Site Art Space, Hong Kong, 2012; Sur La Montagne, Berlin, German, 2011 among others.
Regina José Galindo has participated in events such as the Documenta 14, 2017; the 49th, 51st, 53rd, and 54th Venice Biennials; the 10th Biennial of Shanghai, 2016; the 9th International Biennial of Cuenca, 2011; the 29th Biennial of Graphic Arts of Ljubljana, 2011; the 10th Sharjah Biennial, 2011; the Biennial of Pontevedra in 2010; the 17th Biennial of Sydney, 2010; the 2nd Biennial of Moscow, 2007; the First Triennial of Auckland, 2007; the Venice-Istanbul Exhibition, the 1st Biennial of Art and Artitecture of the Canarian Islands, 2006; the 3rd Biennial of Albania, 2005; the 2nd Biennial of Prague, 2005 and the 3rd Biennial of Lima, 2002. In 2005, Galindo received the Golden Lion for best young artist at the 51st Biennial of Venice for her work Who Can Remove the Footprints? (¿Quien puede borrar las huellas?,  2003).
The Spectre of Order    Group Show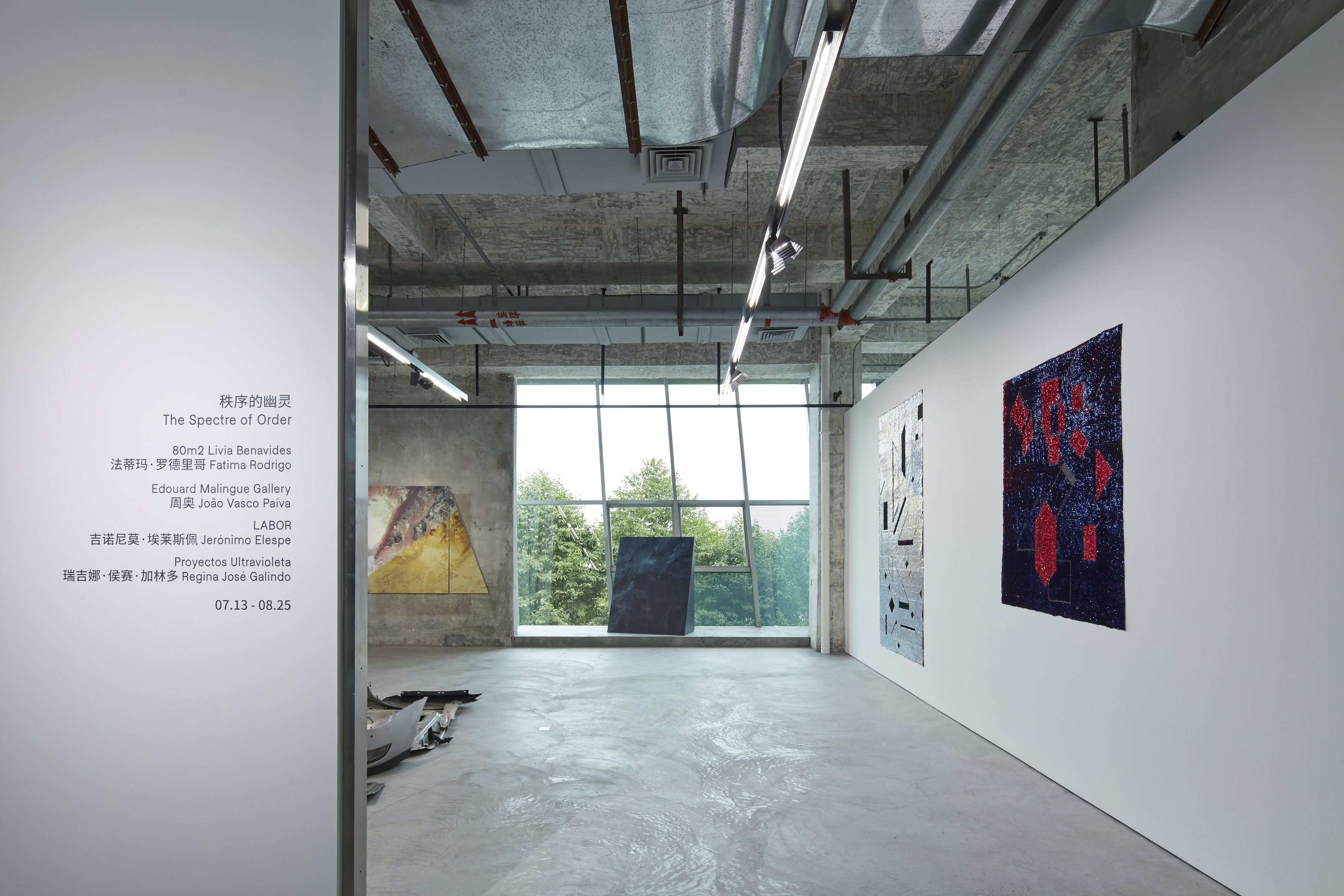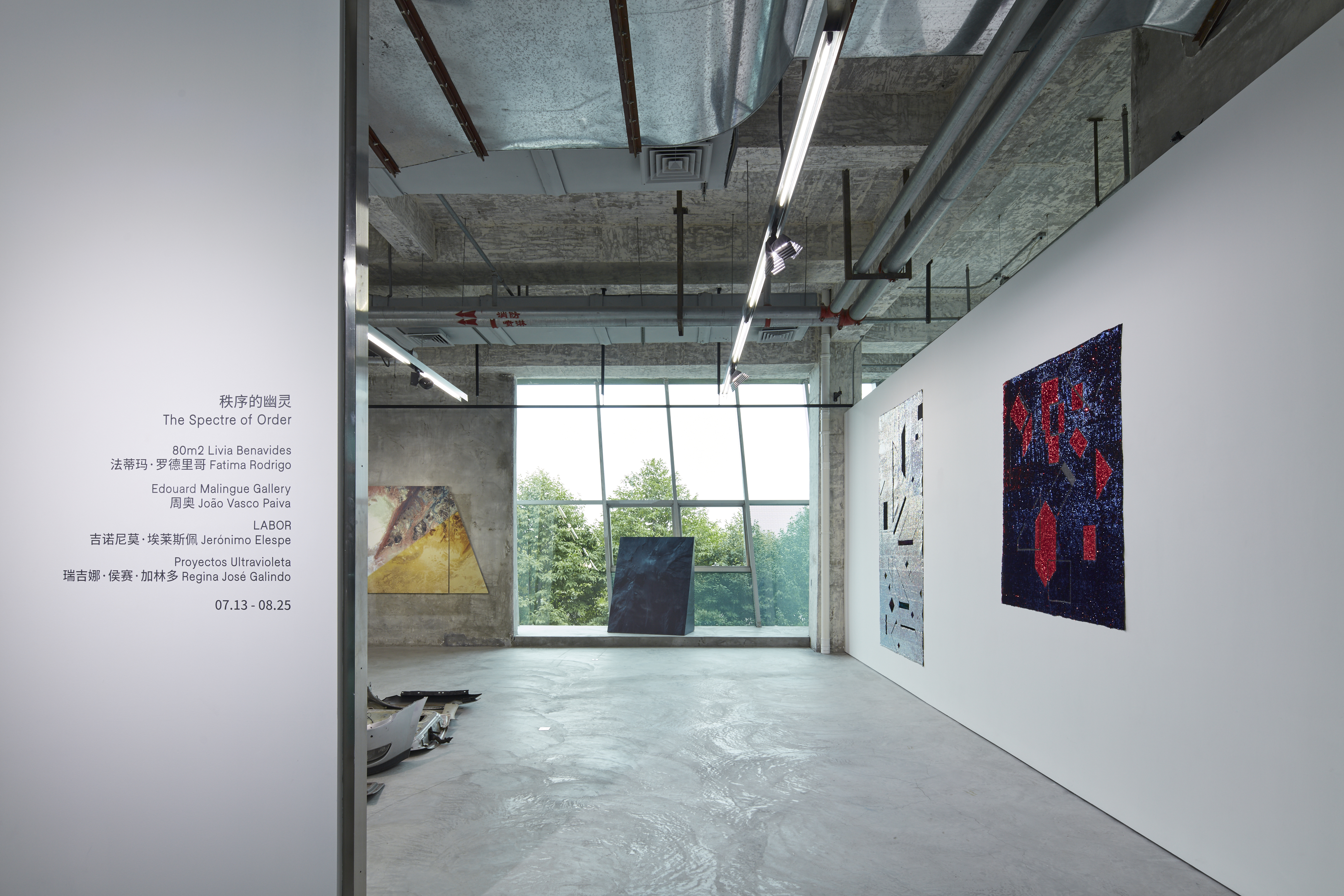 Installation view