This series is a three-dimensional lyrical response to two years spent visiting, contemplating and analysing China. It reflects Jannis Kounellis' self-description as "a dialectic man who brings exchanges" for it introduces the Arte Povera language, that of acquiring and re-expressing commonplace objects to highlight novel meanings that extend beyond the object's original form, in a far Eastern context.
Each work is composed of objects from the common sphere, a source that allows Kounellis' art to break past the constraints of 'high' art and to crucially emphasise the conceptual rhetoric of his work. The objects used are the result of coincidental encounters, while their assemblage is conversely the emanation of deliberate thought: the porcelain fragments, found unexpectedly in a Beijing antique market, are delicately suspended to create a letter-like rhythmic and lyrical effect; the red lantern, dipped into black ink, is a delicate gesture of how West meets East; the black coat, loosely hanging, appends a contrasting weight and anthropomorphic presence.
This series thereby fulfills Kounellis' vision of the Arte Povera movement as a language "open to the world and not confined in an Italian territory" (Jannis Kounellis interview with curator Huang Du, Through Time, Space and Memory, March 1 2010, Beijing) and prompts a free flow of thought upon the interconnection of realities, traditions, memories and contexts in modern China.
Jannis Kounellis was born in 1936 in Greece and moved to Rome in 1956, where he now works and lives. Over the past 50 years, Kounellis has been a leader of the Arte Povera movement. A pioneer in subverting aesthetics, Kounellis has consistenly pushed the limits of "exploring the quotidien quality of objects" and is responsible for initiating "a conceptual approach to utiliz[ing] material freely" (Huang Du, Power of Concept: Jannis Kounellis Being Translated in China, 2011, Beijing).
Kounellis' Recent Works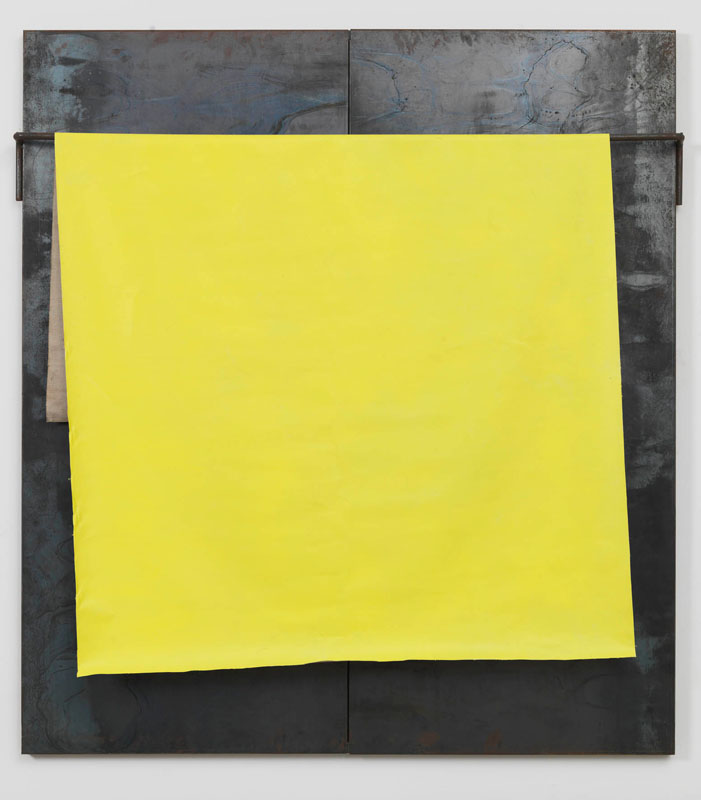 Untitled

2008
Iron plate, iron tube, canvas, yellow enamel
200 x 180 x 15 cm