Edouard Malingue Gallery is pleased to present 'There is no there there', the first international solo exhibition of critically acclaimed Chinese painter Yuan Yuan (b. 1973, China) at Malingue Gallery, Paris. Taking inspiration from a quote by arts patron Gertrude Stein (Everybody's Autobiography, 1937), the works respond to the late writer's impressions upon returning home to California after living in Paris for over 30 years and discovering a ghost-like setting: all that was there was no more. Departing from Stein's lyrical description of loss, Yuan Yuan presents a series of imagined interiors, which focus on the recurring feature of mirrors. Since 3000 BC, when the Yellow Emperor Huang Di expounded the 'Fauna of Mirrors' – a myth citing that every reflective surface was a portal unto a different world harbouring creatures unknown to earth[1] – the mirror has come to be a recurring symbol in literature, from Shakespeare[2] to Sylvia Plath[3], associated with our soul, its continuance and its surroundings.
Divided into three sections, the first room exhibits a series of mirror paintings that directly open unto an imaginary world, a fragmented distortion of reality. Alongside, a large-scale panorama spans the wall, presenting a hall of mirrors – an architectural reference to a duplicated Versailles Hall of Mirrors. Harking back to Huang Di, each painting reflects, in fine detail, spaces that exist beyond those that are immediately visible, whilst exposing certain incongruous spatial anomalies. This play on what you see and what actually exists heightens Yuan Yuan's characteristic as a master of vision; he decides what to reveal and how, which lends to each painting a recurrent aura of mystery. You, as the viewer, face to face with the mirror, are supposed to be surrounded in this setting, yet, your reflection does not appear, an element that draws a parallel with Bram Stoker's Gothic novel Dracula (1897)[4]. Indeed, you are not seeing a truth, but rather connecting the dots between what Yuan Yuan has constructed – scenes that border the believable and the unfathomable.
From here, the second room shifts to a series of building entrances, which include the repeated mirror element, but solely in the context of revolving doors. As with the oeuvres in the previous room, they present various scenarios that the viewer is supposedly surrounded by, whilst suggesting that through the doors a different world exists. Echoing the architectures one finds in majestic entrances, from hotel lobbies to museum doorways, these oeuvres introduce the further notion of movement and continuance, which deliberately contrasts with the surrounding derelict scenarios, such as the fallen chandelier, that heightens a halting of time. This juxtaposition between continuance and arrest also reflects the mirror's conflicted position in novels, such as Thomas Hardy's 'I Look into My Glass' (1898), as an illustrator for a cruel passing of time[5]. Yuan Yuan thus adds a further twist to his visual narrative, whilst prompting us to think back to Gertrude Stein's ominous impression and question whether the scenes are indeed no more.
In the final room, Yuan Yuan presents a grand reveal – a luscious, golden Louis XV interior, replete with opulent floor-to-ceiling Rococo elements. The scene, compared to the previous settings, alarmingly seems untouched, creating an impression that the first two rooms, in their varying states of decay, have been fictions of the viewer's own imagination. As with each of his works, however, further attention to detail is required; there is a mirror, and in it, one sees a completely contradictory scene. As if alluding to Oscar Wilde's 'The Picture of Dorian Gray' (1890), Yuan Yuan builds a conflict between beauty and decay, albeit in an architectural context, whilst equally summoning the mirror's further symbolic associations with narcissism[6]. Yuan Yuan thus presents a final twist that brings the viewer back to his associations with theatricality, each tableaux being his unpredictable stage.
Overall, 'There is no there there' points to Yuan Yuan's identity as an absolute master of visual fictions. As in literature, from Antiquity to the later 20th century, Yuan Yuan builds his oeuvres through delicate symbolism with twists and turns, eliciting associations with fiction, horror and Romanticism – each painting, a masterful prompt for viewers to reflect upon their perception and existence.
Opening: October 20 2015, 6-8 pm
Exhibition location: Malingue Gallery, 26 Avenue Matignon, 75008 Paris, France
———
[1] Jorge Luis Borges, 'The Book of Imaginary Beings', 1957
[2] William Shakespeare, 'Richard II', 1595; 'Julius Caesar', 1599
[3] Sylvia Plath, 'Mirror', 1961
[4] "This time there could be no error, for the man was close to me, and I could see him over my shoulder. But there was no reflection of him in the mirror!", Bram Stoker, 'Dracula', 1897
[5] "I look into my glass, / And view my wasting skin, / And say, 'Would God it came to pass, / My heart had shrunk as thin!'", Thomas Hardy, 'I Look into My Glass', 1898
[6] Ovid, 'Metamorphoses: Part III', "Narcissus", 8 AD
There is no there there    Yuan Yuan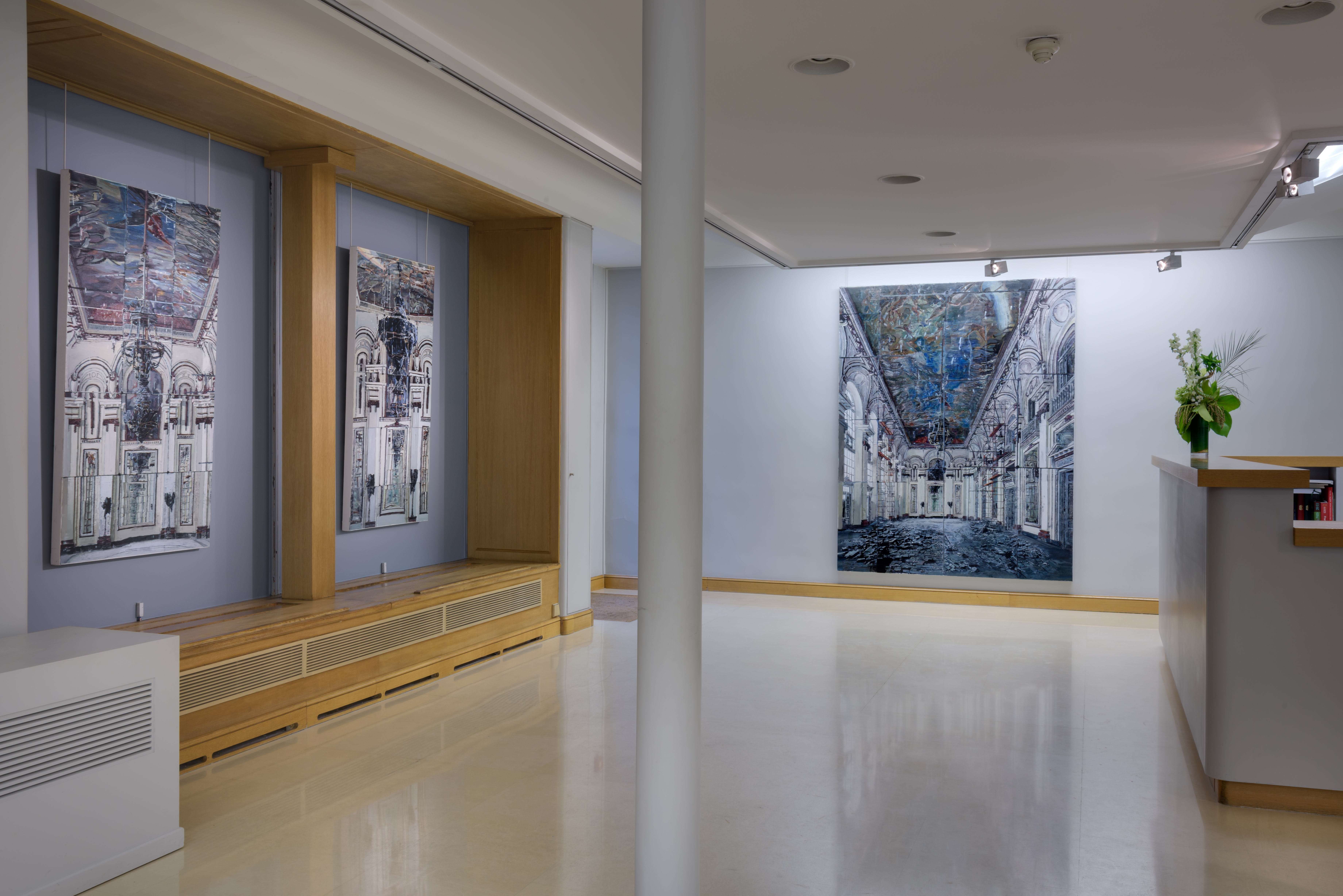 Installation view