The monumental copper sculpture Three Heads Six Arms is one of a series of works inspired by fragments of Buddhist statues, which Zhang Huan found in a market shortly after his return to China. Zhang was deeply moved by their destruction and started making large-scale copper hands based on the symbolic fingers of Buddhist deities. He then created larger works combining the legs, feet, hands and heads of Buddhist deities in an attempt to reverse the desecration and pain they had suffered.
Three Heads Six Arms is the largest sculpture in the series, measuring 800 cm x 1,800 cm x 1,000 cm and weighing 15 tons. The sculpture is based on the Chinese mythological figure Nezha and Tibetan Buddhist sculptures. Two of the three Buddha heads have been replaced by human heads, including a self-portrait of the artist. As in his performance pieces, Zhang places himself centre stage to emphasize the importance of liberation through experience.
"Three Heads Six Arms reflects the changing realities of Chinese people today, the attitude that humankind has conquered nature and even deeds of volition and hope," said Zhang. "While it clearly embodies ideas that are rooted in Chinese culture and tradition, it is also about our common humanity."
Three Heads Six Arms made its world premiere in May 2010 in San Francisco, California, where it remained installed for a period of nine months and was met with critical acclaim.
Three Heads Six Arms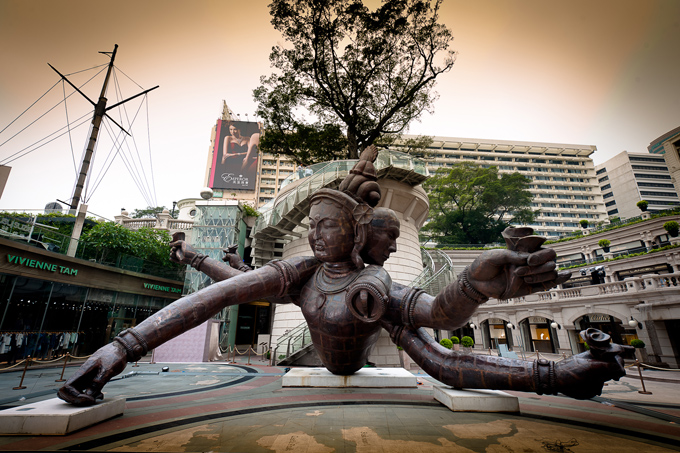 Three Heads Six Arms

2008
Copper
800 x 1,800 x 1,000 cm
1881 Heritage Grand Piazza 2A Canton Road, Tsim Sha Tsui