Thrilled to share that Wong Ping is part of 'Urban Theater: A Comedy in Four Acts', a year-long outdoor exhibition presented by UCCA Edge. Curated by UCCA Curator Ara Qiu, this group show transforms the wraparound outdoor terrace of the museum into a thought-provoking space for public art and an open and fluid setting to stimulate new curiosity and interactions with art for the museum's new audience in Shanghai. UCCA Edge has commissioned artists Cao Fei (b. 1978, Guangzhou), Aki Sasamoto (b. 1980, Kanagawa, Japan), and Wong Ping (b. 1984, Hong Kong) for site-specific artworks in 'Urban Theater: A Comedy in Four Acts'.
Together, these three site-specific installations and an outdoor installation by Erwin Wurm (b. 1954 Bruck an der Mur, Austria) present four comedic acts to the public in an elevated "urban theater," weaved into the urban fabric with the city as its backdrop. The four works in the exhibition owe themselves to the relatable comedy found in the organic connections and emotions of everyday life, at times humorous, spicy, irreverent, or satirical. Breaking outside the walls of the museum and furnishing a fresh, accessible, and distinctive encounter with art in the city, this exhibition is designed to provide the public with new perspectives on contemporary art and to inspire reflections on questions such as the the nature of public art, the relationship between humans and cities, and how public art contributes to the urban spirit.
Wong Ping's 'Shifty Eyes Exercise' (2021) is presented on the south terrace. The inflatable tubes extending from inside a semi-transparent acrylic structure represent the flickering gaze of urbanites. Whether curious and inquisitive, or adrift and dodgy, the expression in their eyes could be seen externalized in the various states of the inflatable tubes.
– Courtesy of UCCA Center for Contemporary Art.
Urban Theater: A Comedy in Four Acts    Wong Ping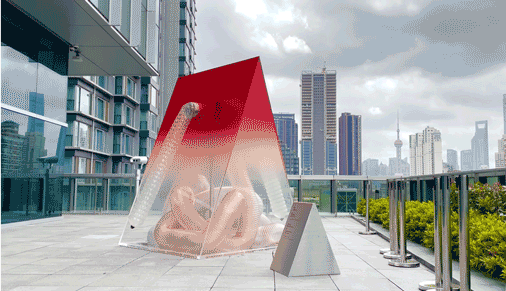 Installation view

'Shifty Eyes Exercise', 2021. Site-specific installation, 180 × 180 × 250 cm
Commission by UCCA Edge, courtesy the artist and Edouard Malingue Gallery
Image courtesy of UCCA Center for Contemporary Art