"In certain almost supernatural inner states, the depth of life is entirely revealed in the spectacle, however ordinary, that we have before our eyes, and which becomes the symbol of it." – Charles Baudelaire (Journaux Intimes, lac. cit., p. 29)
As explained by the 19th century French philosopher Gaston Bachelard, Baudelaire identified how "the exterior spectacle helps intimate grandeur unfold" (Poetics of Space, p. 190-196). Intimacy, as we understand it, from a literary as well as psychological standpoint, is a process of responding to one's surroundings: a physical, emotional, cognitive and experiential occurrence. How each individual expresses intimacy is dependent upon his or her particular modes of reception as well as environment. Brought together under the thematic of intimacy, Wang Wei (b. 1972, China), Ko Sin Tung (b. 1987, Hong Kong), Yuan Yuan (b. 1973, China), Jeremy Everett (b. 1979, USA) and Wong Ping (b. 1984) each explore through distinct visual languages this 'process', exposing its manifold layers, which dependent upon the artist as an individual, stretch from the political, to the domestic, mnemonic and material.
An established Chinese artist, Wang Wei distinguishes himself through his installations; a key figure of the artistic and curatorial 1990s 'Post-Sensibility Movement', he responds critically to space, using it as a medium to evaluate what is real and natural, a viewpoint that is intimate to him, but to be shared with others. For "Historic Residence" (2009), for example, Wang Wei built an enlarged replica of Mao Zedong's personal bathroom – a domestic space, which is itself physically intimate. Through the act of aggrandisement he also questioned, without answering, the political leader's stature, prompting the viewer to address his demi-God status – the disproportionate space standing as a symbol of Zedong's potential intimate shortcomings.
Emerging Hong Kong artist Ko Sin Tung picks up on this association between intimacy and the domestic, but takes on a more invasive approach that fleshes out the theme's sociological associations. In 'Modern Homes Series', for example, she repeatedly surfed the Internet, collecting images posted by individuals of their treasured home ware. Saved, enlarged till pixelated, printed and then framed, Ko Sing Tung exposes, through a process of appropriation and recontextualisation, what each individual values within the closeted context of his or her own private dwelling.
Similarly exploring what people value and cherish, but fleshing out the memory-driven element of such associations, established Chinese artist Yuan Yuan creates delicate oil on canvas works that depict the imagined interiors of buildings, as visually and emotionally recalled by himself. For 'A Little Bit Lonely II' (2013), for example, he depicts an elongated, fully-laid, dining table, set amidst an elaborate yet delicate neo-classical interior. Neither obviously set in China nor Europe, the viewer is presented with an amalgamation of Yuan Yuan's impressions and recollections, which uninhabited recall some distant social associations.
Turning to increasingly introspective reflections on intimacy, emerging American artist Jeremy Everett plays with materials, creating works that evoke intuitive sentiments, such as tenderness and vulnerability. Everett's 'Untitled' (2013) oil paint on yellow silk work, for example, echoes through its translucid quality and slight physical presence, a certain susceptibility; the white skeletal frame, lightly visible through the delicately stretched fabric, appears to suggest a certain fragility balanced by a discreet support system. As such, Everett's work whispers to the undercurrents of each individual's interpretation of intimacy, reflecting how it all starts with an allowance of sentiment.
Developing on intimacy's associations with the bodily as well the notion of sentiment, a video and neon installation by emerging Hong Kong artist Wong Ping will be displayed in a sectioned-off part of the booth. Crossing humorous animation with sculpture, Wong addresses the junctures in human life, especially the daunting, personal topic of physical incapacity and how this impacts individual sexuality. Adding a literal angle to the topic of intimacy, Wong Ping's work also touches upon the theme's associations with power and gender roles.
Art Basel Hong Kong 2016    Ko Sin Tung, Wang Wei, Wong Ping, Samson Young, Yuan Yuan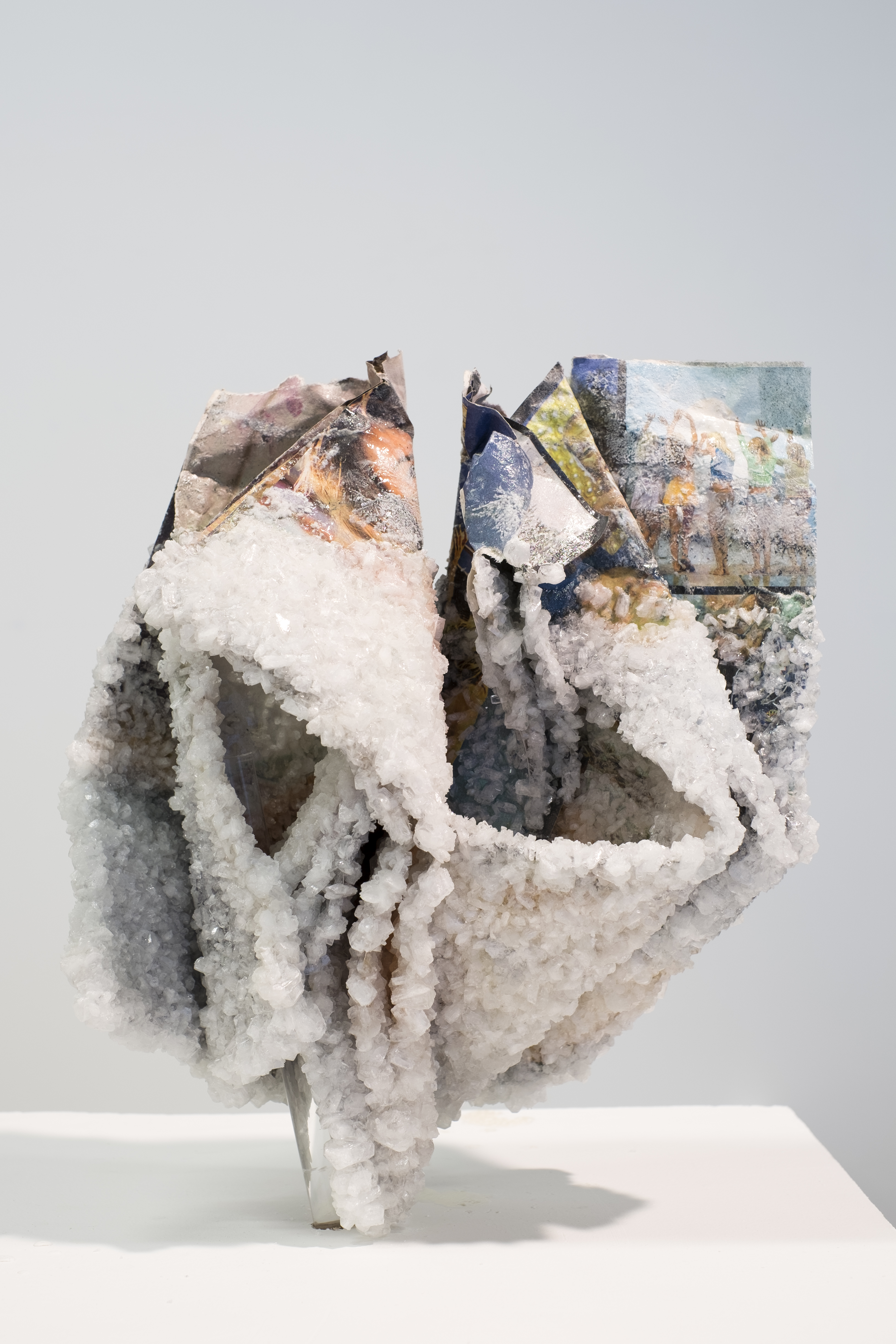 Untitled (Centrefold) by Jeremy Everett

2016
Crystalized porn magazine
31 x 14 x 26 cm