Booth 3C07
Edouard Malingue Gallery is pleased to present at Art Basel Hong Kong a booth featuring Eric Baudart (b. 1972, France), Chou Yu-Cheng (b. 1976, Taiwan), He Yida (b. 1980, China), Kwan Sheung Chi (b, 1980, Hong Kong), Phillip Lai (b. 1969, Malaysia), Su-Mei Tse (b. 1973, Luxembourg), Wang Wei (b. 1972, China), Wong Ping (b. 1984, Hong Kong), Samson Young (b. 1979, Hong Kong), Yuan Yuan (b. 1973, China) and Zheng Zhou (b. 1969, China). The works reflect the gallery's programme that focuses on artists who combine aesthetic appeal with conceptual enquiry.
Eric Baudart appropriates and decontextualises quotidian objects to mount a ballet of shape, colour and form. On display are 'Papier Millimetre (Big Platinum)' (2018), the product of the disciplined act of scratching architectural paper millimetre by millimetre, and 'Tool Box', an assemblage of individual objects which, in their static arrangement, resemble a form of utilitarian still life or nature morte straddling human involvement and aesthetic possibilities. Baudart's exhibitions include Le Petite Palais, Paris and Bass Museum of Art, Miami. His work is held in various notable museum collections, including the MFA, Boston and the MAMCO, Geneva. In 2011, he was awarded the Meurice Prize for Contemporary Art.
Modified, shifted or transferred elements amounting to new relationships between status and object: herein lies the pulse of Chou Yu-Cheng's practice that builds, across multiple mediums, a subtle critique of mass media, institutions and the mechanisms that produce them. A graduate from l'Ecole Nationale Supérieure des Beaux-Arts de Paris, and the research programme La Seine, Chou has gained international recognition for his dialectical interplay between the source and results of his creations. Presented are two sets of gradient paintings variously inspired by Chou's notion of daylight and his observation of Manila's vibrant street colours, juxtaposed with works that relate to the relationship between hygiene and modernity. Recent solo shows include Taipei Fine Art Museum, Taipei; Kaohsiung Fine Art Museum, Kaohsiung, amongst others. Group exhibitions include Liverpool Biennial; Art Basel Hong Kong Encounters; New Museum, New York and others.
He Yida mounts delicate sculptural compositions that challenge the aesthetics of the quotidian, the relationships between objects, their surroundings, and more broadly probe at the origins of art. Living in Shanghai, He's approach to the readymade is one of integration rooted in material. She identifies curvatures, textures, weights, and thereby creates her own language of sculpture: one that acknowledges the utilitarian purpose of the original but uses it as a springboard to build a palpable yet ambitious multi-dexterous theatre of objects. On display is 'Untitled' (2018), a new sculptural work that combines wood, styrofoam and ceramic. He's solo exhibitions include A+ Contemporary, Shanghai; C-Space, Beijing. Her selected group exhibitions include Edouard Malingue Gallery, Hong Kong; Surplus Space, Wuhan; MOCA Shanghai, Shanghai. In 2018 she completed a residency at CFCCA, Manchester in conjunction with the Liverpool Biennial.
Kwan Sheung Chi tenaciously pursues across multiple mediums a conceptual practice rooted in criticism and political status quo, assignations of value and modes of existence. Employing simple props to articulate his reflections with pointed focus, Kwan unravels Hong Kong's relationship with money, its political framework and the livelihood of those who inhabit it. Presented is 'Doing It with Chi – Making an Exit Bag' (2009). Lacing a deadpan sense of humour with a slightly anarchic disposition, its advice on assisted suicide prompts us to realise how we can focus on the mundane whilst not tackling the major threats to our existence, such as mounting social issues and the dissolution of democracy. Kwan has held exhibitions at Solomon R. Guggenheim Museum, New York and Rockbund Art Museum, Shanghai, amongst others. In 2013, he was the winner of the inaugural HUGO BOSS Art Prize.
Phillip Lai approaches objects in a manner that appeals to, and reflects on, their intrinsic existence and properties. Through careful, delicate compositions that place the object in plain sight, Lai creates moments that lull you into considering the heart of the object. 'Untitled' (2019) is a sculptural installation composed of a bowl, that is perfectly moulded on the plastic variations one finds on street corners, wedged into undulating structure resembling black foam. Through their placement and arrangement, Lai plays with utility, balance and architecture. Phillip Lai was nominated for the 2018 Wakefield Sculpture Prize and has exhibited internationally at Camden Arts Centre, London; Tate Modern, London; Transmission, Glasgow; Drawing Room, London; Hayward Gallery, London; MOMA, New York; ICA, London. Phillip Lai's work is held in the permanent collection of the Tate (UK), Arts Council (UK), Camden Arts Centre (UK), Goss-Michael Foundation (USA), Nomas Foundation (Italy), La Colección Jumex (Mexico).
A trained classical cellist of Chinese and British descent, Su-Mei Tse weaves a meditative, visaural tale empowering the language of music as a primary voice. Investigating associations between places, geographies, cultures, traditions, Tse's work elicits a cross-stimulation of the senses, where time and its flow are suspended in a gentle state of contemplation. Presented is the photographic work 'Golden Trees (Reminiscences)' (2018) that captures a panorama of systematically dispersed narrow trees, reaching for the sky. Tse rose to prominence when representing Luxembourg at the Venice Biennial and being awarded the Lion D'Or award. She has equally held solo shows at Yuz Museum, Shanghai; Aargauer Kunsthaus, Aarau; Mudam Luxembourg, Luxembourg; Isabella Stewart Gardner Museum, Boston, amongst others.
Conceived not so much as artworks but rather vehicles for situating artifice in the context of life, Wang Wei appropriates existing spaces and visual elements which he then adapts to a gallery setting. On display are 'Squared Natural History 4 (No. 4)' (2018) and 'Squared Natural History 4 (No. 5)' (2018), two mosaic tile surfaces illustrating a pattern intrinsic to those found in Dongguan, Guangdong. Viewed and interacted with, Wang aims to build on his running consideration of displacement, transposing the affordable material from its everyday context to a state of isolation and potential suspicion. Wang has held multiple exhibitions including Tate Liverpool, Liverpool and CASS Sculpture Foundation, Chichester. In 2017, his work 'Shadow' was selected as the best artwork standing as part of the special programme 'ArtReview Asia Xian Chang' at West Bund Art & Design.
Flashing, pop-like imagery; visual and auditory narrations, installations that extend into three dimensions the artist's fantastical animation world – these are elements of Wong Ping's practice which expresses his observations of society, from childhood to adulthood, using a visual language that sits on the border of shocking and amusing. Presented is 'Albino Cockroach becomes the lightest colour bodybuilding championship winner in history' (2018), a three-dimensional vignette from his acclaimed animation series 'Wong Ping's Fables' (2018) which addresses issues of appearance, love, digital interaction, narcissism and fear in an encounter that at once arouses intrigue and discomfort. Wong's recent exhibitions include Kunsthalle Basel, Basel, CAPRI, Düsseldorf, Solomon R. Guggenheim Museum and New Museum, New York. In 2018, he was the recipient of the inaugural Camden Arts Emerging Arts Prize. The following year, his animation 'Wong Ping's Fables 1' (2018) was one of the winners of The Ammodo Tiger Short Competition at the 48th International Film Festival Rotterdam.
Samson Young is a Hong Kong-based artist and composer. Multicultural paradigms, weaved into a symphony of image and sound, are at the heart of Samson Young's (b.1979) practice. With formal cross-cultural training in music composition and holding a PhD in Music Composition from Princeton University (2013), Young channels his attunement to melody by pushing its formalist boundaries to create innovative cross-media experiences that touch upon recurring topics of identity, war and literature. In the centre of the booth is Young's sculptural kinetic installation 'Music while you work' (2018). In 2017, Young represented Hong Kong at the 57th Venice Biennale. Moreover, he has held multiple exhibitions worldwide, including group exhibitions at 4A Centre for Contemporary Asian Art, Sydney; Center on Contemporary Art, Seattle; and the Asia Triennial, Manchester among others. Furthermore, he has been awarded several prizes, most recently including the BMWArt Journey Award in 2015.
Yuan Yuan is an established Chinese painter who approaches the canvas as an exploration of humanity and the passing of time focusing mainly on interiors. Yuan Yuan's compositions are highly structured and orderly, yet with an element of mystique managed by the geometric details of the architecture depicted. As exemplified by the two paintings on display, 'Practising in fabric patterns' (2018) and 'Your past life' (2016-18), Yuan describes with incredible painterly detail every individual surface, from minute tiles to the flowing sheets. Yuan's work has been exhibited in Bergamo, Paris, Hong Kong, Singapore, Shanghai, Yokohama, Taiwan and is held in numerous private collections, including the White Rabbit Collection, Sydney and Pomeranz Collection, Vienna.
Zheng Zhou is a painter of instinct, conveying onto canvas observations from the world, as ad hoc as they may be. Referencing 'I Ching' ("The Book of Changes"), Zheng channels the astronomical, remarking the myriad of components that make up our universe, mimicking its duplicity through his subject range, hues and techniques. On display is 'Bai Suzhen and Xiaoqing: Poetry of Suzhou' (2018), a fragment from The Legend of the White Snake, here loosely traced by Zheng's freeform painterly trickles, superimposed to create a delicate mnemonic quality. A prolific painter, Zheng debuted by studying Printmaking at the Zhejiang Academy of Fine Arts, subsequently shifting his practice to painting and lecturing. He recently exhibited at Edouard Malingue Gallery, Shanghai and Hong Kong.
///
Edouard Malingue Gallery was founded in Hong Kong in 2010 to build a critical dialogue between Asian and international contemporary artists, both emerging and established, who combine aesthetic concern with conceptual enquiry, and work across different disciplines from video and installation to painting and sound. In 2016 the gallery opened a second space in Shanghai, creating a wider platform of exchange for its roster of artists. In addition to presenting dynamic solo exhibitions, the gallery pushes the boundaries of art in public spaces and stimulates artistic discourse through collaborations with curators worldwide.
Art Basel Hong Kong 2019    Eric Baudart, Chou Yu-Cheng, He Yida, Kwan Sheung Chi, Phillip Lai, Su-Mei Tse, Wang Wei, Wong Ping, Samson Young, Yuan Yuan, Zheng Zhou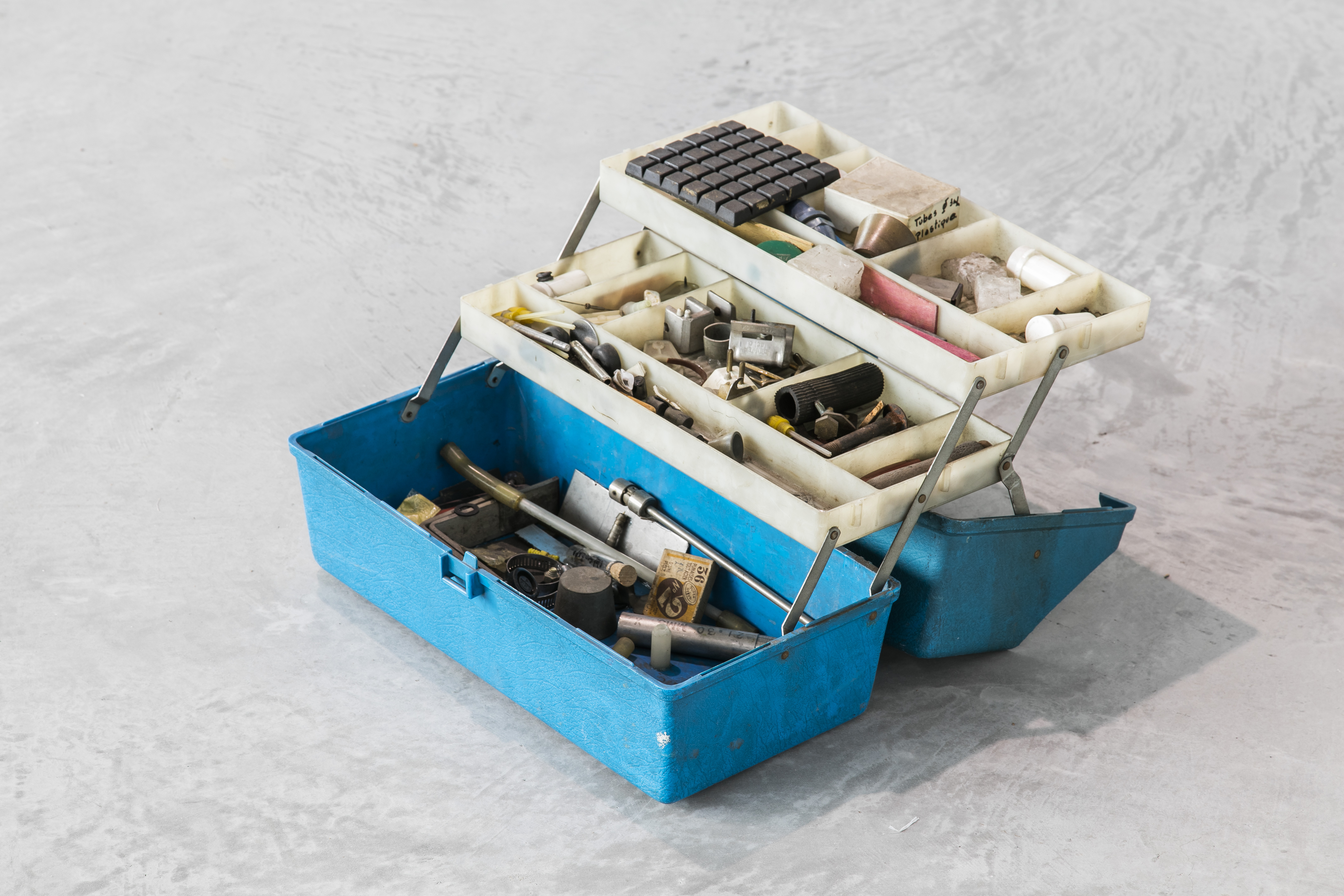 Eric Baudart, 'Tool Box', 2017

Plastic, steel and others
50 x 45 x 20 cm