Edouard Malingue Gallery is delighted to be hosted by Kate MacGarry, London as part of CONDO London 2019. Edouard Malingue will present work by five artists alongside five artists represented by Kate MacGarry.
JOSH BLACKWELL
Born 1977 in New Orleans, lives and works in Vermont. Using wool, threads, silk, paper and paint, Blackwell explores notions of excess, craft and transformation by adorning and displaying the humble plastic bag. Recent exhibitions include Neveruses Report Progress, Museum of Art and Design, New York and Fort Greene, Venus Los Angeles, curated by Adrianne Rubenstein, both 2016. In the same year Blackwell completed a residency at the Josef and Anni Albers Foundation, New Haven, CT. They teach Fashion and Modernism at Bennington College, Vermont.
CHOU YU-CHENG
Born 1976 in Taipei, lives and works in Taipei, Taiwan. Chou Yu-Cheng's practice builds, across multiple mediums, a subtle critique of mass media, institutions and the mechanisms that produce them. He modifies, shifts and transfers objects and concepts to create new relationships between an object and its status. A graduate from l'Ecole Nationale Supérieure des Beaux-Arts de Paris, and the research programme La Seine, Chou has gained international recognition for his dialectical interplay between the source and results of his creations. Recent solo exhibitions include Taipei Fine Art Museum, Taipei and Kaohsiung Fine Art Museum, Kaohsiung. His work has been included in group exhibitions at Liverpool Biennial; Art Basel Hong Kong Encounters; New Museum.
JEREMY EVERETT
Born 1979 in Colorado, USA, lives and works in Los Angeles and Paris. Citing inspirations such as Land Art masters Robert Smithson and Michael Heizer, Jeremy Everett's work stems from a centre of intuition, and subtly evolves beyond process and creation. Its significance lies in its evolving state between varying forms of beauty. Everett has exhibited internationally with solo exhibitions in Los Angeles, New York, Shanghai, Paris and Hong Kong. He has participated in group shows at Espacio Tenerife de las Artes and Museum of Contemporary Art, Chicago.
LAURA GANNON
Born 1972 in Galway, Ireland, lives and works in London. Gannon's metallic linen paintings oscillate between drawing, sculpture and architecture. Her film Silver House was screened at the 2017 Milano Design Festival. Recent solo exhibitions include Laura Gannon, Kate MacGarry, 2018; Espace Croisé, Centre d'Art Contemporain, France, 2016 and Silver House, Uillinn, West Cork Arts Centre, Ireland, 2015.
NURI KUZUCAN
Born 1971 in Turkey, lives and works in Istanbul. Nuri Kuzucan creates canvases that relate to the metropolis. Focusing on the global lexicon of cosmopolitan landscapes, Kuzucan explores the characteristics of major cities, fleshing out their idiosyncrasies as well as homogenisation. In addition to participating in numerous international group and solo shows, Kuzucan's work has been exhibited in public collections such as the Pera Museum, Istanbul and is part of the permanent collection at the Museum of Modern Art, Istanbul.
PETER MCDONALD
Born 1973 in Tokyo, Japan, lives and works in London and Tokyo. McDonald's vibrant paintings explore the intricacies of colour, pictorial space and humankind. Exhibitions include; Mushrooms of Language, Kate MacGarry, UK, 2017 and Visitor, 21st Century Museum of Contemporary Art, Kanazawa, Japan, 2011-2012. In 2008 he won the John Moores Contemporary Painting Prize.
FLORIAN MEISENBERG
Born 1980 in Berlin, lives and works in New York. Meisenberg creates absorbent compositions that explore the mysteries of living in a broadcast culture. Recent exhibitions include In Flames Leaving Las Vegas, Simone Subal, New York; The Taste of Metal in Water, Francois Ghebaly, Los Angeles; Myths of the Marble, ICA Philadelphia, USA, 2017; Salon Kennedy, (with Anna K.E.), Frankfurt, Germany both 2016. His work has also been included in group shows at the Boros Collection, Berlin; Henie Onstad Kunstsenter, Oslo; Kiasma Museum, Helsinki and Schirn Kunsthalle, Frankfurt.
KO SIN TUNG
Born 1987 in Hong Kong, lives and works in Hong Kong. Ko Sin Tung investigates, through a myriad of mediums and materials, the psychological influences of objects and the functions they are supposed to fulfill. Sin Tung observes Hong Kong's inhabitants, their close-quarters, and identifies their values dictated by the items they treasure and keep. Sin Tung has exhibited at CFCCA, Manchester; Asia Society, Hong Kong and Para Site, Hong Kong. She was awarded the Project Grant (Emerging Artists Scheme) from the Hong Kong Arts Development Council in 2014, The Pure Art Foundation Grant in 2014 and Jury's Special Prize of Huayu Youth Award, 2016.
FRANCIS UPRITCHARD
Born 1976 in New Zealand, lives and works in London. Playing with scale, colour and texture, Upritchard's works are made using a variety of materials including polymer plastic, balata (a natural rubber found in the Amazon), bronze, glass, ceramic and textiles. Drawing from figurative sculpture, craft traditions and design, her most recent work blends references from literature with Japanese folklore. Major exhibitions include; Wetwang Slack, The Curve, Barbican Centre, London, 2018; Viva Arte Viva, curated by Christine Macel, The 57th Venice Biennale, 2017; Jealous Saboteurs, Monash University Museum of Art (MUMA), Melbourne, Australia, 2016 and In die Höhle, Secession, Vienna, 2010. She represented New Zealand in the 53rd Venice Biennale, 2009.
JOÃO VASCO PAIVA
Born 1979 in Portugal, lives and works in Hong Kong and Portugal. João Vasco Paiva observes the complex and continuously shifting characteristics of objects and spaces. Interested in semantics, Paiva examines the lexicon of constructed, detruded or neglected units, systematically documenting and abstracting them to compose a process-driven artwork. In 2018, Paiva presented a major installation at Bold Tendencies, London. Exhibitions include Museu Nacional de Arte Contemporânea do Chiado, Lisbon (solo); Witte de With, Rotterdam; Artsonje, Seoul and OCT Contemporary Art Terminal, Shanghai. His work is held in the permanent collection of the Yorkshire Sculpture Park, UK; Israel Museum, Jerusalem; Sifang Art Museum, China.
Condo London 2019    Chou Yu-Cheng, Ko Sin Tung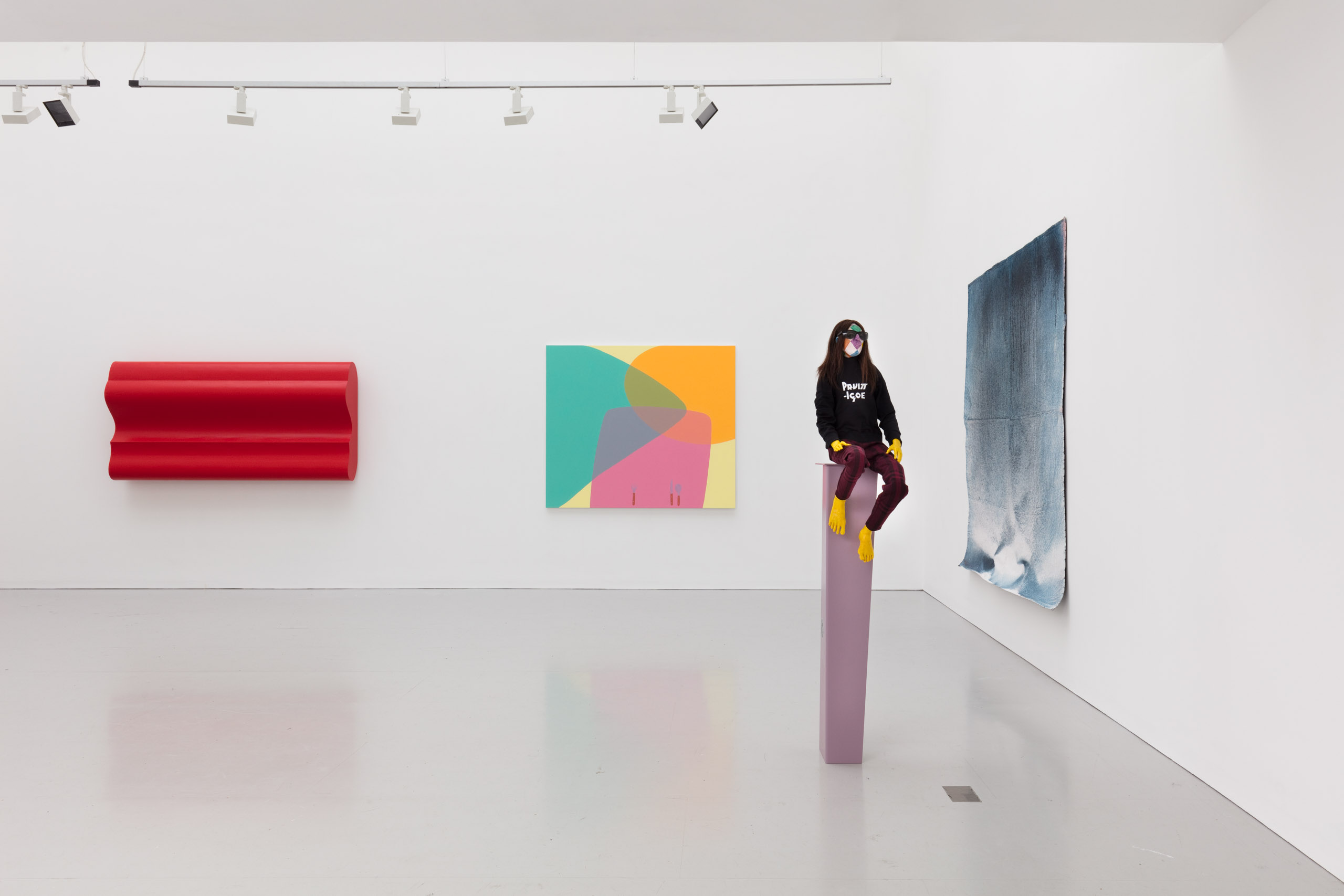 Installation view