Edouard Malingue Gallery is pleased to present at Art Düsseldorf a group exhibition bringing together three female artists from China and Hong Kong who centre on modes of living. From anthropological considerations to the quotidian and urban regeneration, Wang Zhibo (b. 1981, China), He Yida (b. 1980, China) and Ko Sin Tung (b. 1987, Hong Kong) mount an empathetic discourse that sheds light on frames of existence, which may be shared and translated between East and West. Employing a range of different mediums, from painting to sculpture to installation, the booth presents a visual play with space, whilst instigating varying modes of artistic and cultural interaction.  
Hanging from the booth walls are paintings by Wang Zhibo, whose practice surveys the absurd spectrum of what is real – geographically, historically, ethnographically, architecturally. A graduate from the China Academy of Art Oil Painting Department, Wang creates oil on canvas paintings that confound our notions of time and space. Transcending traditionalism through the subject matter depicted, which is both curious and challenging, Wang channels her painting to represent the variances of our visual experiences, similar to the reflection on the surface of water: capable of capturing the multiple manifolds of a subject. On display will be a collection of paintings akin to a 'nature morte' that despite beholding recognisable objects, challenge our understanding of what constitutes daily life. From the spaces we could inhabit to the items we may eat, Wang provides a portal into another mode of living, a fully-formed set of life, which is distinct yet not utterly dissimilar to our own.
Moving from a rather domestic to a more public urban consideration of life modes, He Yida employs everyday materials to mount a discourse on the quotidian, challenging what we look at twice or indeed contemplate as beautiful, worth our gaze, engagement. Seemingly bearing the influence of Arte Povera, He creates sculptural arrangements that appear effortless, ad hoc, but equally open – to interpretation, possibilities. Initial impressions are replaced by further observations, permitting a serial wave of consciousness, no one thought being the same as a prior. Presented in the booth would be a sculptural installation, demonstrating how He explores spatial planes, carving through literal space whilst creating zones for contemplations of order, societal and aesthetic. Indeed, He probes at human sensibility and emancipation, extending beyond Walter Benjamin's notion of 'aura' as defining something that is highly valued yet deceptive and out of reach.
Addressing the disconnect between what is promised and what actually exists, Ko Sin Tung builds a visual dialogue with the intimate yet urban environments that persons individually create. Concerned with the impact of 'things', Ko Sin Tung investigates, through a myriad of mediums and materials, the psychological influences private objects project and the idiosyncratic functions they've been personally channeled to fulfill. A graduate from the Department of Fine Arts at The Chinese University of Hong Kong, Ko Sin Tung observes the city's inhabitants, their close-quarters, and identifies with curiosity their values as dictated through the items they treasure and keep, slowly observing how these objects mirror ways of life, or in the very least, illustrate what is expected for living. Exhibited would be an installation, involving collected imagery and daily items, referencing the discrepancy between reality and artifice in the context of regeneration.
As such, the booth aims to shed light on varying modes of perceiving daily life, from a homely setting to the scenarios one crosses in the street or the aspirational futures posited. Furthermore, whilst the discourse emanates from Asia, the topics touched upon are international, illustrating points of connection between cities and continents.
///
Wang Zhibo is a highly regarded female Chinese painter who rose to prominence after being awarded the prestigious national Luo Zhongli Scholarship in 2008. Wang's work has since been exhibited from Hong Kong to New York, including exhibitions at Times Museum, Guangzhou; the Penrith Regional Gallery, Sydney; Chongqing Art Museum, Chongqing; Today Art Museum, Beijing; Museum of Contemporary Art, Taipei. Wang was selected as one of the top female Chinese artists to observe and featured by writer Luise Guest for her book on female Chinese artists 'Half the Sky' published in 2016.
He Yida was born in 1980 in Shanghai. A graduate from Chelsea College of Arts, London in 2007, He Yida currently lives and works in Shanghai. Her solo exhibitions include: Right Misplacement (A+ Contemporary, Shanghai, 2016); In Case (C-Space, Beijing, 2013). Her selected group exhibitions include: One Second Ago (Edouard Malingue Gallery, Hong Kong, 2017); NAN KAN: Inexplicit Ethics and De-ranking Perspective (Surplus Space, Wuhan, 2016); Daily Formalism (BANK, Shanghai, 2016); Alchemy (Between Art Lab, Shanghai, 2015); Peepshow (Long March Space, Beijing, 2015); Follow (MOCA Shanghai, Shanghai, 2011).
Ko Sin Tung is a highly promising, emerging Hong Kong artist, graduated from the Department of Fine Arts at The Chinese University of Hong Kong. In 2012 she completed a residency at the Kunstnarhuset Messen, Ålvik, Norway. She has previously been exhibited at the 8th Vladivostok Biennale of Visual Arts, Vladivostok, Asia Society Hong Kong Center and Para Site, Hong Kong, amongst other locations. Ko Sin Tung has also been awarded multiple awards including Project Grant (Emerging Artists Scheme) from the Hong Kong Arts Development Council (2014), the Pure Art Foundation Grant 2013-2014 (2014) and Jury's Special Prize of Huayu Youth Award (2016). Ko lives and works in Hong Kong.
Edouard Malingue Gallery at Art Düsseldorf 2017    He Yida, Ko Sin Tung, Wang Zhibo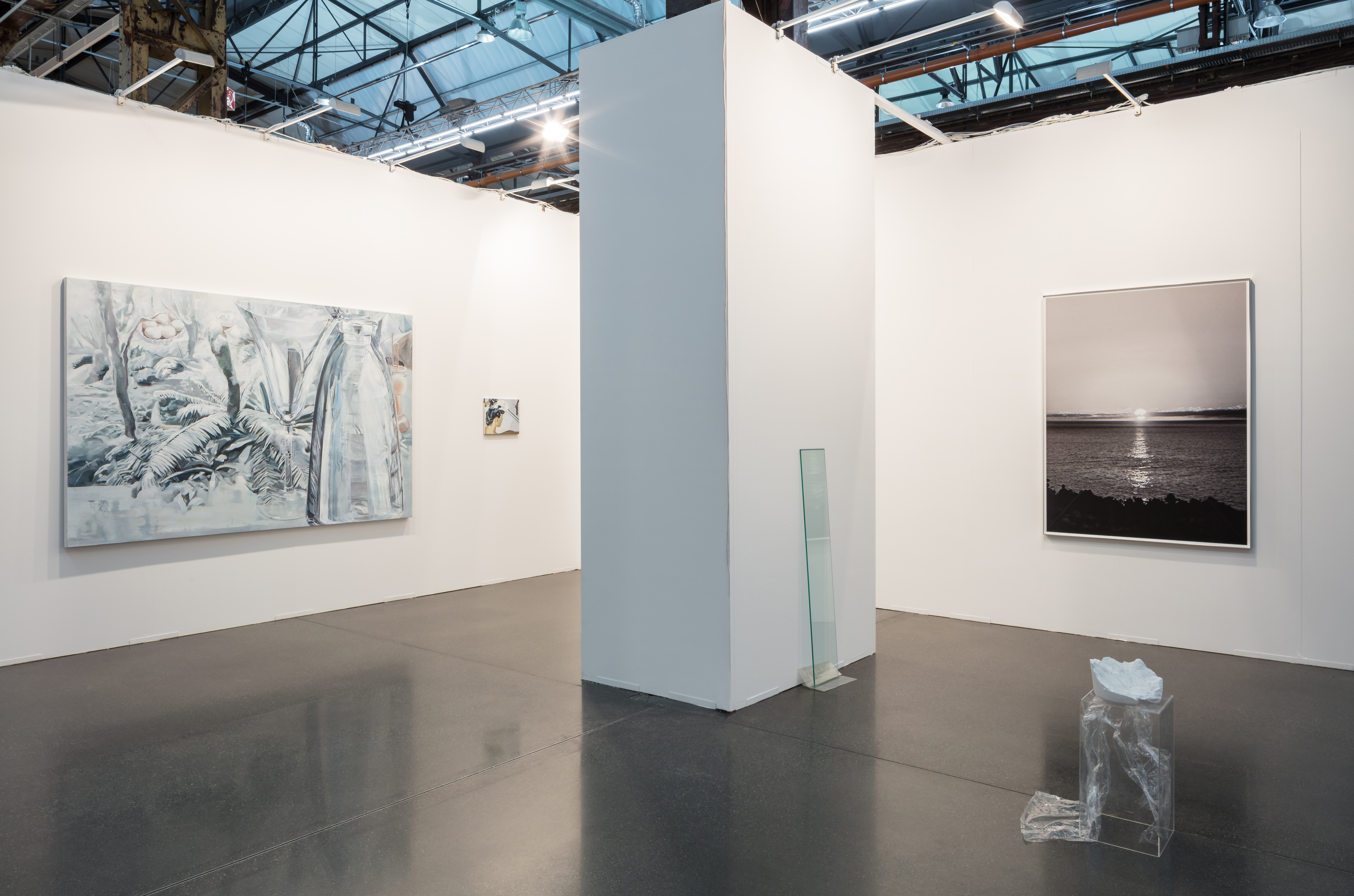 Installation view