ART BASEL HONG KONG
Edouard Malingue Gallery is delighted to introduce the rising Chinese artist Cui Xinming (b. 1986) at the Insights section of the inaugural and highly anticipated Art Basel Hong Kong art fair. A recent graduate from the Sichuan Academy of Fine Arts, Cui Xinming creates expansive oil on canvas works that express, in an elaborate and vivid painterly style, the tumultuous thoughts and reflections of a younger Chinese generation. This exhibition marks Cui Xinming's first solo show in Hong Kong and stands by the gallery's dedication to exhibiting emerging highly talented artists from around the world.
Cui Xinming's solo exhibition entitled 'A Sleepwalker's World'features a series of new works, which capture the inner turmoils experienced when undergoing a phase of personal development. A highly introspective artist, Xinming observes himself, his position with regards to society and the values of those who surround him. Where words do not capture his sentiments, Xinming approaches the canvas with incredible vigour and treats it as an extension of his visions and internal tensions, casting upon it incredulous scenarios and hypnagogic happenings.
Indeed, these scenes are not figments of a universal reality; rather, they are dramatic and subliminal visions that Xinming's mind has conjured. This is not to say, however, that Xinming's works do not bear a real-world relevance; on the contrary, each work is laced with secondary meaning, ranging from political to religious commentary. For example, in 'Story (2)' (2013), Xinming depicts two dogs approaching an offering stand in a highly vegetated setting, which two Buddha's overlook. While one dog seems incredulous to the site's sanctity and chews on the presented fruit, the other stands aback and overlooks his compatriot's animalistic urges. Xinming thereby creates, and depicts, an allegory for the disparate respect of religion amongst living beings.
Privy to Xinming's thoughts and opinions, one feels approximate to a trespasser, an infringer upon a terrene that is very much the artists own for these are visions that stand on the border of personal tremors and inveterate hauntings. Yet, Xinming's work very much lends itself for observation by virtue of its monumental scale and panoramic composition. Indeed, true to the Greek roots of the word 'panorama', Xinming places all (pan) on view (horama): we are witnesses to every infinite detail, from the vibrant crepuscular sky in 'The Bewitched Years' (2013) to the delineated face of the threatened buddha in'Taboo Game' (2013). Although Xinming does not oblige to the strict tradition of panoramas, that of depicting past national military battlefields or public events, he does depict a conflicted world of high contemporary relevance.
'A Sleepwalker's World' therefore presents a series of narrative paintings that are omniscient in quality and insightful in their socio-political commentary. Indeed, Xinming's works have a distinct literary quality and openly share an affinity with Franz Kafka's fictional novella Metamorphosis that follows the inexplicable transformation and subsequent alienation of the lead character Gregor Samsa. While Kafka and Xinming's works share a distress regards isolation, society and change, Xinming conversely finishes each of his istorias with a more hopeful twist: by virtue of his deliberate depiction of vivid skies, each luminescent and radiating, Xinming reflects that behind his troubles, and those of a young Chinese generation, there is a sense of hope.
A Sleepwalker's World    Cui Xinming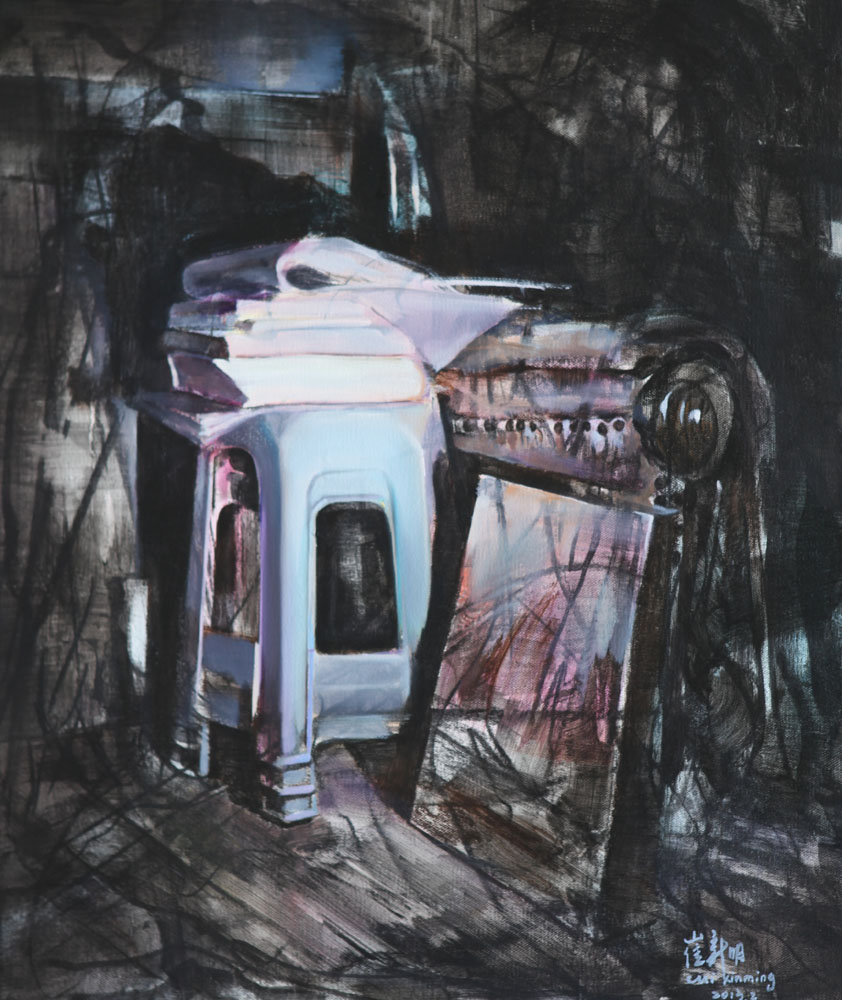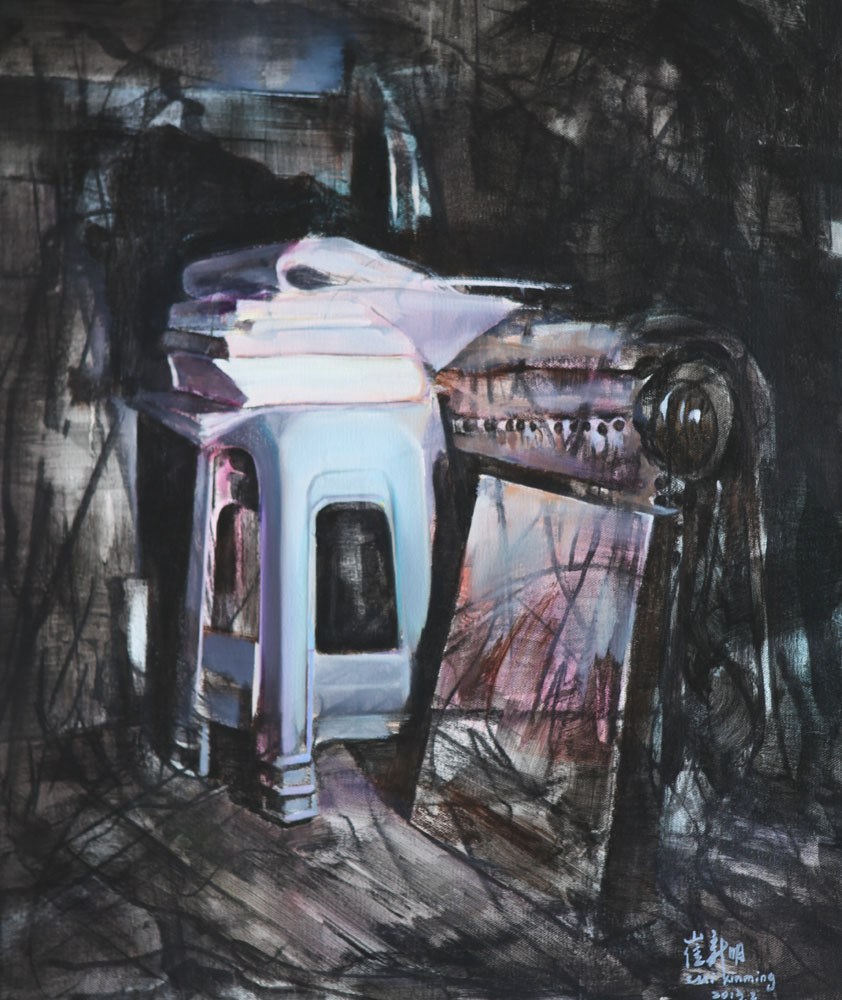 Knock Knock

2013
Oil on canvas
70 x 60 cm