Edouard Malingue Gallery presents the Spring Group Show with selected works of outstanding artists all around the world, including Los Carpinteros (est. 1991, Cuba), João Vasco Paiva (b. 1979, Portugal), Jeremy Everett (b. 1979, USA), Wang Zhibo (b. 1980, China), Wu Chi-Tsung (b. 1981, Taiwan) and Callum Innes (b. 1962, Scotland).
Los Carpinteros (est. 1991, Cuba)
Based between Cuba and Madrid, Los Carpinteros is an artistic collective formed by Marco Antonio Castillo Valdés (b. 1971) and Dagoberto Rodríguez Sánchez (b. 1969). At the forefront of Latin American and International art, Los Carpinteros are widely recognised for their artwork, across multiple mediums, that wittily distorts commonplace objects to address the social issues of their native Cuba and today's wider world. Their work has been exhibited in major museums around the world and is part of seminal public collections such as the Tate, Centre Pompidou and Museum of Modern Art.
On display are two works by the duo: their sculptural work Globo 100 (2011) and a watercolour Escalera de Lego IV (2013). Both present Los Carpinteros' emphasis on humour and variation of everyday items. Globo 100, for example, is an enlarged fire extinguisher that has been puffed out to resemble, as the title in Spanish suggests, a globe. Escalera de Lego IV conversely presents larger-than-life pieces of lego, which have been systematically juxtaposed in order to create a descendant staircase rather than a childhood construction.
João Vasco Paiva (b. 1979, Portugal)
A graduate from the Porto Arts Institute, João Vasco Paiva moved to Hong Kong in 2006 to complete a Master of Fine Arts in Creative Media. Since graduation with distinction in 2008, João Vasco Paiva has set to create works in multiple mediums, which consistently explore how urban spaces may serve as catalysts for aesthetic production. While João Vasco Paiva's practice is intrinsically tied to Hong Kong, his work resounds with dense urban environments around the globe, which he systematically documents, analyses, abstracts and reduces to create a codified interpretation that is simultaneously an artwork.
Exhibited are two sets of work: his video piece Converge (2011), which is presented on a monitor placed upon a stand in the corner of the gallery space, and two acrylic on aluminum pieces, Arrow Dark Blue 1 and Arrow Dark Blue 2 (both 2013). Played on a loop, Converge presents a series of block colours, which move from the bottom to the top of the screen. Largely illegible at first sight, the shifting masses actually represent logarithmic data amassed from observing people using the mass transit stations in Hong Kong. Similarly associated with mobility, albeit through a different medium, the Arrow works present an aesthetic reinterpretation of the street signage that is used in Hong Kong to direct traffic, and which as a citizen, one may not consider for its geometric qualities.
Jeremy Everett (b. 1979, USA)
A native of Colorado, USA, Jeremy Everett creates work that is highly marked and inspired by the great leaders of Land Art: Robert Smithson, Michael Heizer, Richard Long. Enthused by landscapes that are 'incomplete' or 'unachieved', Jeremy Everett's practice focuses on process – especially that of photography – rather than a result. By using its materials and methods, and confronting these with the natural landscape, Jeremy Everett creates hypnotic and highly textured works that deconstruct conceptions of a finished object and reflect instead notions of vulnerability.
Presented in the gallery space are three works: Film Still (2013), Untitled (2013) and Hustler (2013). Film Still is a prime example of Jeremy Everett's relationship with photography, its elements and the concepts his practice evokes. A mounted silver gelatin print on mylar created without the use of a camera, the work stands before you as a textured and fragmented mirror that has been weathered in corners and over-exposed in parts – a film still of the environment at that point in time. Untitled further emphasises Jeremy's relationship with vulnerability and decay; created by spray painting a fine canary-yellow sheet of silk, the work evinces a particular fragility and beauty. Hustler, despite being behind a glass cabinet, evokes a similar sense of fragility and further emphasises Jeremy Evertt's focus on process rather than product; the work consists of a porn magazine, which has been crystallised to create what looks like an artefact from the earth, which in turn may erode and crumble.
Wang Zhibo (b. 1980, China)
With solo exhibitions in Shanghai, Hong Kong and New York, Wang Zhibo is an emerging Hangzhou-based oil painter who is increasingly recognised for her wonderfully rendered yet out-worldly depictions of Chinese landscapes and parkscapes that introduce incredulous elements of Western architecture. Devoid of human presence, Wang Zhibo's paintings meticulously portray a meeting of cultures and reflect upon the ease and difficulty of exchange between traditions.
Exhibited in the gallery space is her new work Four and Two Thirds (2013). Following from her previous practice it presents a parkscape and draws a focus on fountains, which have either been captured at dusk or in the early morning, due to the painting's tepid tones. Furthermore, Four and Two Thirds shows Zhibo's interest in inserting her own imaginative architectural constructs; the viewer's first point of visual contact is a pagoda-like structure, which seems to emerge from the water to the left of the canvas.
Wu Chi-Tsung (b. 1981, Taiwan)
Born in Taipei, where he currently lives and works, Wu Chi-Tsung's practice explores different methods of using, producing and interpreting images. Through his work that spans across different media, including photography, video, and installation art, Wu Chi-Tsung sets to reflect upon our perceptions of the physical and natural world and the mechanisms involved in the transformation of images. In his body of work, Wu Chi-Tsung is constantly challenging himself by exploring the unknown possibilities of known materials and techniques.
Presented here is a new work from his Wrinkled Texture series, which plays on the texturing techniques applied in traditional Chinese landscape paintings called Cun-fa. By crumpling the Cyanotype paper and exposing it under sunlight, Wu Chi-Tsung records an image of subliminal beauty that resembles Chinese landscape painting. By not being able to control the exact outcome of the exposed Cyanotype paper, Wu Chi-Tsung chooses to challenge the aesthetic of the "known", creating an image that is neither strictly a photograph nor a painting, but could perhaps be both.
Callum Innes (b. 1962, Scotland)
Callum Innes is a celebrated abstract painter who has held multiple solo exhibitions around the world and been collected by multiple museums around the world, such as the Tate Britain, the Centre Pompidou, Paris and the National Gallery of Australia, Canberra, Callum Innes is internationally recognised for his paintings that explore the occupation of line, colour and texture in two-dimensional space.
On display are two of his watercolour on paper works, Chinese Red / Hello Cerulean (2012) and Gold Green / Carmine (2012). As with his larger painting works, these pieces are clean and measured in their rendition. Overall, Callum Innes' works evoke a sense of purity and restraint that places the medium not only as a tool but also the subject of his work.
Spring Group Show    Group Show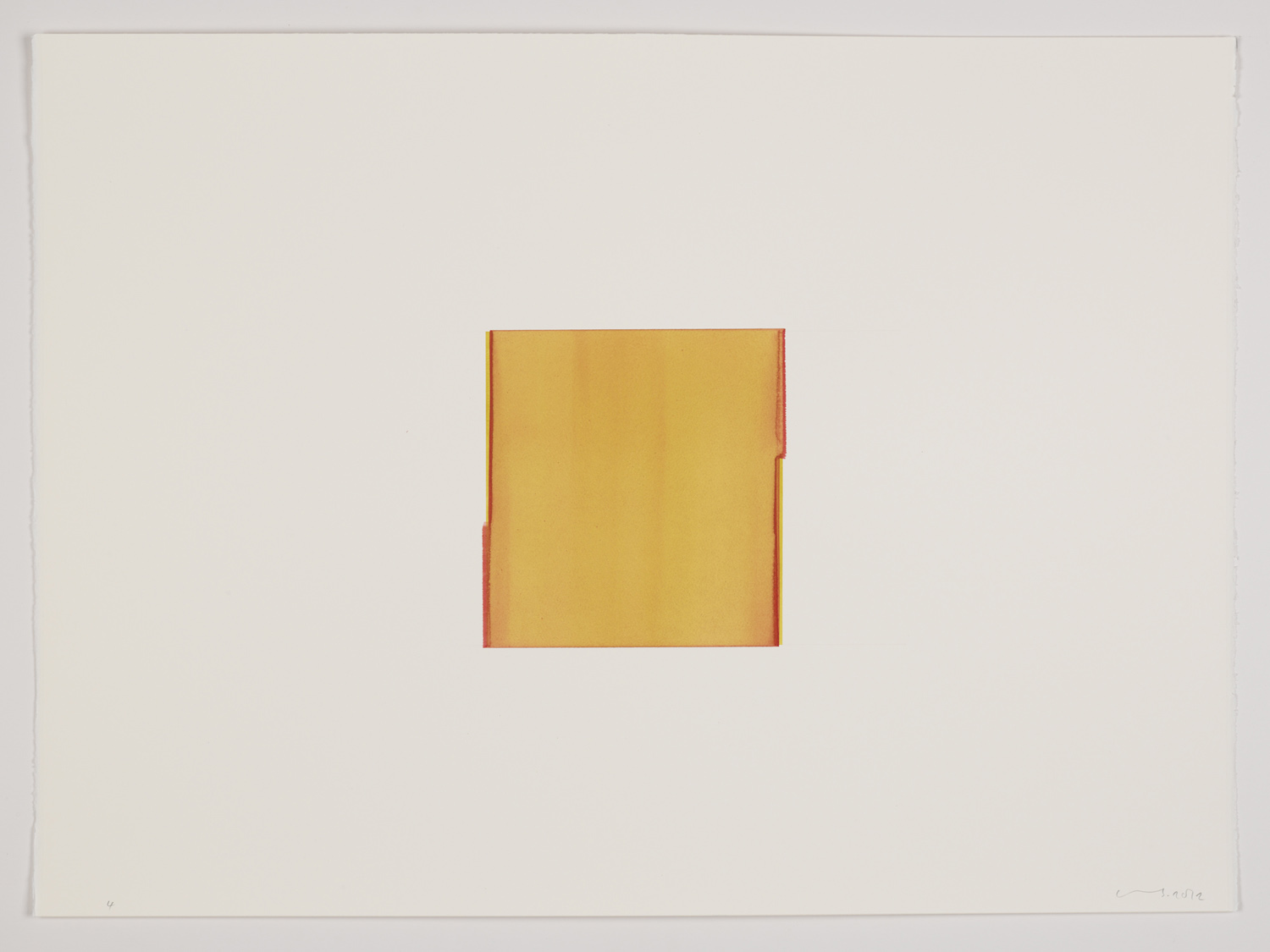 Callum Innes Chinese Red / Hello Cerulean

2012
Watercolour on paper
52 x 42 cm