Edouard Malingue Gallery is thrilled to announce 'Shared Coordinates', a group exhibition in response to a continued collaboration with Silverlens in Manila. Made up of four multi-faceted international artists spanning a myriad of disciplines pertaining to, sculpture, video, painting, installation and drawing. Representing Edouard Malingue Gallery are Fabien Mérelle, Jeremy Everett and Laurent Grasso. Completing the roster will be Silverlens artist Patricia Perez Eustaquio.
Jeremy Everett (USA, b. 1979) is a highly celebrated emerging artist noted for his conceptual approach to a wide range of media including sculpture, painting, performance and video. Everett has held solo exhibitions in New York as well as Paris and has been included in numerous group exhibitions in Monaco, Berlin, Hong Kong and Los Angeles. His work was most notably part of an exhibition at the Museum of Contemporary Art in Chicago, for which Phaidon produced a catalogue. Everett's work has been extensively supported by art critics and been deliberated in l'Officiel de l'Art, Muse Magazine, The New York Times, The Smithsonian Magazine, Flash Review, Modern Painters and ArtReview, amongst others.
Laurent Grasso (France, b. 1972) is an internationally acclaimed conceptual artist who references science, history, mythology and supernatural phenomena to weave a research-filled narrative bordering the actual and the inconceivable in sculpture, installation, video and painting. Grasso has held residencies at the Villa Medicis, Rome and ISCP, New York. In 2015 he was awarded the esteemed Order of Arts and Letters by the French Ministry of Culture, and in 2008 was awarded the prestigious Marcel Duchamp prize. Grasso has recently held solo exhibition 'PARAMUSEUM' at Musée Fesch, France, and was part of the group exhibition 'Universe and Art' at Mori Art Museum, Japan. Grasso's work has been featured in multiple publications, including 'Architecture Now!' (Taschen). Moreover, his work is held in collections around the world, including the Centre Pompidou, Paris, Mori Art Museum, Tokyo and Leeum, Samsung Museum, Seoul.
Fabien Mérelle (France, b. 1981) has gained international recognition for his intimate micro narratives delicately detailed in Chinese ink and watercolour but also extending into sculpture, his self referential portraits reveal a vulnerability echoing the intricacy of his practice. Mérelle has been exhibited internationally at institutions such as Lieu Unique, Nantes; Drawing Center, New York; UQ Art Museum, Brisbane; Musée des Beaux Arts de la Rochelle, La Rochelle; Centre Pompidou, Paris. He was granted a residency at the prestigious Casa Vélasquez in Madrid and has been the recipient of multiple awards including the Sanofi Prize (2014) and Canson Prize (2010). A monograph on his practice was published in 2013 with essays by Kaegan Sparks, Dr. Chia-Ling Yang and Bertrand Dumas. Moreover, Mérelle's work has appeared in various prestigious publications such as Art Actual, Beaux-Arts Magazine and Le Monde. Mérelle's work is held in several private and public collections including the Centre Pompidou, Paris and Daniel and Florence Guerlain contemporary art foundation in Paris. He currently lives and works in Tours and Paris.
Patricia Perez Eustaquio (Philippines, b. 1977) is known for her works that span across different mediums and disciplines—from paintings, drawings, and sculptures, to the fields of fashion, décor, and craft. She reconciles these intermediary forms through her constant exploration of notions that surround the integrity of appearances and the vanity of objects. A recipient of The Cultural Center of the Philippines' Thirteen Artists Awards, Patricia Perez Eustaquio has also gained recognition through several residencies abroad, including Art Omi in New York and Stichting Id11 of the Netherlands. She has also been part of several notable exhibitions held both locally and internationally, such as The Vexed Contemporary in Museum of Contemporary Art and Design, Manila; Volta Basel in Basel, Switzerland; and Credit Suisse's Chimera in Singapore Art Museum, Singapore. She has exhibited at the Palais de Tokyo in Paris and was part of the 2016 Singapore Biennale. Patricia Perez Eustaquio is currently based in Manila, Philippines.
Shared Coordinates    Fabien Mérelle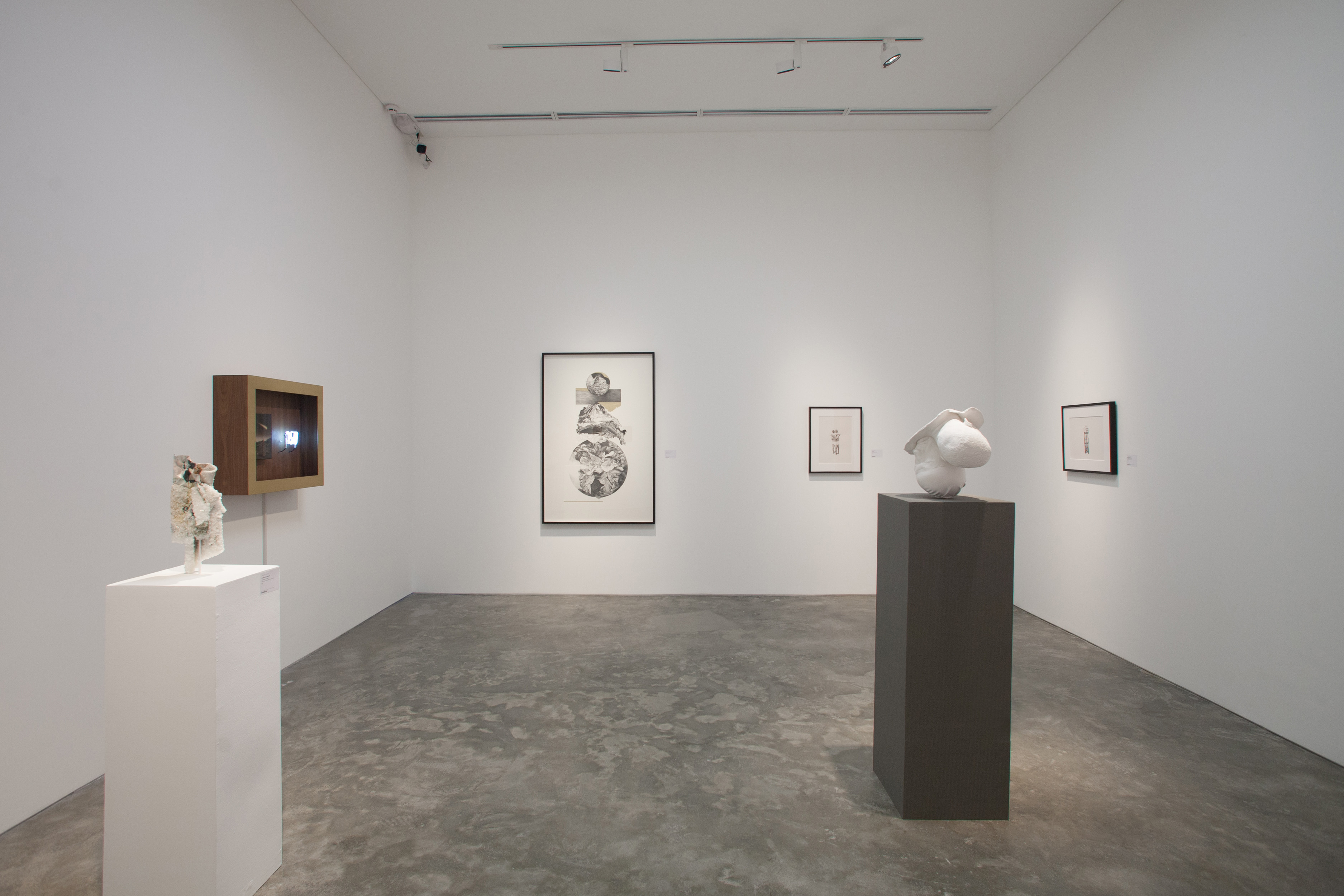 Installation view